John O'Gorman honoured for 50 years service at Wicklow County Council long service awards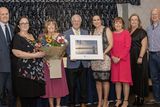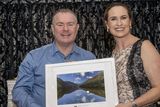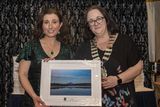 Myles Buchanan
Wicklow People
WICKLOW County Council recently held an awards night to honour 137 employees who between them have given more than 4,000 years of local authority service.
The awards event was an opportunity for the council to recognise and pay tribute to long-serving members of staff, indoor and outdoor, across the many functional areas and the five Municipal Districts of Wicklow County Council including the libraries and the fire service.
On the night, the awards were presented to staff who had worked with the council or other local authorities for 25, 40 or 50 years.
A total of 83 staff members achieved 25-year awards, with 53 gaining 40-year awards and one there was one very special 50-year award for John O'Gorman, with each award winner given a framed print of different scenes from County Wicklow taken by talented local photographer Trevor Quinn.
These were presented by Wicklow County Council Chief Executive Emer O Gorman and the Leas Cathaoirleach, Cllr Aoife Flynn Kennedy.
Ms O'Gorman congratulated those receiving awards saying: "Wicklow County Council's most valuable asset is its staff. Down through the years, you have all worked hard to deliver services efficiently and effectively to the public.
"On average, any local authority provides more than 200 services over a broad and varied range of activities. In Wicklow, you have always ensured excellent service delivery and the best possible customer service. I thank each and every one of you for your contribution to Wicklow County Council, and by extension, your contribution to County Wicklow."
Ms Flynn Kennedy added: "I would like to thank you all on behalf of myself and all the other Councillors for your assistance and co-operation with us on a daily basis and know that we hold you in very high esteem.
"Each one of you plays their part in delivering quality services every day to the people of County Wicklow. Some services are delivered directly to the public, others are delivered in the background but you all make a difference to the lives of our constituents."