Illegally dumped waste in Wicklow and Dublin uplands on decline as only 140 tonnes collected in 2022
2022 figures down 68pc from peak of illegal activity in 2008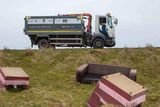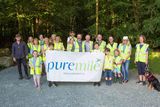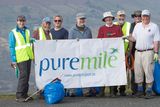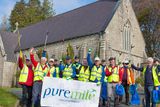 Myles Buchanan
Wicklow People
A new report has shown that illegal dumping in the Wicklow and Dublin uplands areas has reduced by 68 per cent since a peak in 2008, but environmental initiative Pure still removed 140 tonnes of illegally dumped waste in 2022.
The end-of-year report from Pure, an initiative which began in 2006, shows that they collected that 140 tonnes of rubbish from 700 different sites. It was a dramatic decrease from the peak of 440 tonnes of illegally dumped waste that they cleared in 2008, but Manager Ian Davis was quick to warn that any complacency in tackling this anti-social issue could see that decline reverse.
His words came as funding for the project beyond December 2023 is currently being considered.
Mr Davis said: "Illegal dumping is not unique to the Wicklow/Dublin uplands, however, while most regions in Ireland are currently reporting an increase in illegal dumping, Pure are seeing a decrease.
"We're the first initiative of its kind in Ireland and the success of Pure is based on a multi-stakeholder approach, with a strong emphasis on collaboration and cooperation between all of the organisations involved.
"However, it is extremely important that we do not become complacent, because if we do, it won't take long before illegal dumping will be on the increase."
The Pure truck is on the road every day, and since Pure was established in 2006, it has removed more than 3,800 tonnes of rubbish from more than 14,000 illegal dumping sites in the Wicklow/Dublin uplands, with the project processing more than 15,000 reports/complaints.
If you were to put all the rubbish that Pure has removed from the uplands into standard household rubbish bags, they would fill more than 400,000 bags. If you lined up all these bags on the road, they would stretch all the way from Dublin to Dingle in the south west of County Kerry.
Mr Davis added: "From 2006 to 2008 were the difficult days as we came across a number of historical dumping sites where we were removing up to 400 tonnes of waste. The truck was on the road every single day and we dealt with all of that, and since then there has been a levelling out and a decrease in dumping in certain areas.
"We had some large scale dumping take place after Christmas and we were involved with the local authority in clearing it up and looking for evidence of who the dumpers were or where the waste originated.
"We have been recording and mapping every location and incident of illegal dumping in the Wicklow/Dublin Uplands since 2007 and have built up data of all illegal dumping activity in this region, the location of dumping, type of dumping, landowner, and the amount of dumping."
The Pure Project has also created the Pure Mile initiative, that encourages communities and groups living in rural areas of Wicklow to adopt a mile of road, or miles of road, in their local area, or in the Wicklow/Dublin uplands and organise litter picks and anti-dumping campaigns, as well as researching information about their local flora and fauna and the built, cultural, and social heritage of an area.
"The Pure Mile has proved to be a great initiative as it allows local communities to let us know when dumping is taking place so we pick it up and make efforts to prevent further dumping from taking place," said Mr Davis.
Funding for Pure ends in December of this year, but Ian is confident that further funding will be provided.
"The Department of the Environment, Climate and Communications are very receptive to the work carried out by Pure and its success," he said. "They consider Pure a success story so we would be hopeful that Pure will continue after December."
Mr Davis's hopes of receiving more funding were backed up when Ossian Smith, Minister of State at the Department of Environment, Climate and Communications, heaped praise on the project.
"Everyone who spends time in the beautiful Wicklow and Dublin uplands benefits from the work of the Pure Project and the efforts of the volunteers who participate annually in the Pure Mile initiative," said Minister Smyth. "The reduction in illegal dumping in the area is impressive and my department is pleased to support this work."