Kenyan memorial for Kiltegan's Fr Norbert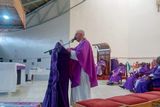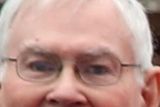 Myles Buchanan
Wicklow People
LOCAL people were joined by 25 priests, religious Sisters and Bishop Dominic Kimengich in Eldoret Cathedral in Kenya as they gathered to celebrate the Diocesan Memorial Mass for the late Fr Norbert Reid, held just before St Patrick's Day.
The three remaining Kiltegan priests in Eldoret Diocese were present. The obituary for Fr Nobert was read once again after which there were some speeches from some of the local priests, the local Sisters and the laity.
It was obvious that Norbert was deeply appreciated over many parishes but was remembered mostly for his last eight years at Mutanda Parish. Bishop Kingish spoke highly of his pastoral work there and invited all present to pray earnestly for the repose of his soul. Norbert's fine framed portrait was placed ceremoniously in front of the altar during Mass.
Norbert was one of ten priests ordained for St. Patrick's Missionary Society by Bishop Dominic Conway on June 12, 1976. After ordination Norbert was appointed to the diocese of Eldoret in Kenya.
From 1986 until 2010, Norbert worked in eight different African parishes.