Blessington Community College goes orange for Pieta House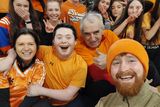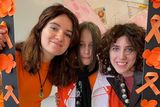 Eoin Mac Raghnaill
Wicklow People
Students from Blessington Community College showed their dedication to creating a healthy and inclusive environment that promotes mental well-being, by hosting a dress in orange fundraiser for Pieta House.
Every student in the school took part in the non-uniform day fundraiser, donning orange clothing to represent Pieta's Amber Flag initiative and each contributing €2 to Pieta – a charity that runs suicide prevention initiatives, offers counselling services and promotes positive mental health.
A planned walk had to be postponed due to poor weather conditions, but it didn't stop students from showing their support of mental health awareness by making a giant mural with their handprints on it.
Speaking after the successful fundraiser, art teacher and school PRO Tanya Twyford Troy said: "We got our Amber Flag last year and we have run events throughout the year to promote its values. This was certainly one of the bigger events we've undertaken.
"There were classroom events and the students made a big mural with their handprints on it. They all had a blast doing it.
"A big thank you goes to Ms McCormack and Ms King for all of their work and, of course, our brilliant students."