Paddy Harris and Shane Surpless honoured at a wonderful event in Bray's People's Park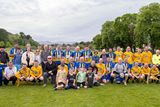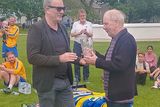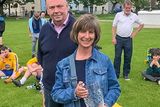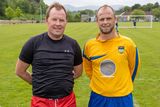 Brendan Lawrence
Bray People
Two legends of Bray soccer were celebrated last weekend at a special event in the People's Park. Paddy Harris and the late Stephen Surpless were the men in the centre of everyone's attention for the afternoon with both having served clubs with dedication and devotion in the town for decades.
For at least 45 years, Paddy Harris has marked pitches and performed a multitude of other duties in the People's Park and the Carlisle Grounds and to celebrate and honour that huge effort, Paddy was presented with a signed jersey by Bray Wanderers and other gifts from Garden County, Shamrock Bhoys and Ardmore Rovers.
Shane Surpless sadly passed away in 2020 but was a man who gave great service to football in the town of Bray through clubs such as Shamrock Bhoys, Ardmore and Dale United many moons ago. Shane's wife Heather was presented with a beautiful vase in honour of Shane's efforts in the company of his lifelong friend Paul Cranley.
A thrilling battle between Garden County and Shamrock Bhoys select was played out on the day with the 0-0 result a fitting end to such a joust.
"It was a great day," said Deco Harris. "The weather was great, we had a good turnout and Paddy really enjoyed himself," he added.