Terrific treble for Wicklow RFC U18 girls
U18 girls are unstoppable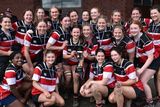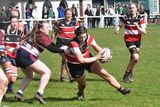 Wicklow RFC's Under-18 girls travelled to Carlow RFC on Saturday in a bid to add the South East Cup to the Leinster League and Cup trophies.
They were to take on Tullow in the decider in the last game of the season and the Black Gates side were a fantastically committed team and represented themselves with great pride throughout what was a tough game for them.
Tullow were unfortunate to meet Wicklow on a day when everything went right, it really was a day when everything the Wicklow girls touched turned to gold.
From the start Wicklow's handling was superb, tip passes, skip passes, everything went to hand with only one scrum was conceded by Wicklow for a knock in the game.
The Ashtown Lane side's work at the breakdown was excellent, not giving up a single turnover. The set piece was pitch perfect with Wicklow dominant in the scrum.
Training ground moves and penalty moves were all performed with slick precision. It was such a perfect performance from the team that it would be unfair to pick out any individual for special mention, this team have now won the treble and gone through the season undefeated.
This Tullow side will be back competing in finals again, it was remarked on by all present that the behavior of the Tullow players, coaches and supporters during and after the game added to a hugely sporting occasion, they carried themselves with class and are a great reflection on their club.
Congratulations to the Wicklow Under-18s on a great season. The future is very bright for this talented bunch of players.
Wicklow RFC: Aoife Nixon, Sarah FitzPatrick, Tara Kelly, Sophie Murphy, Jessica Griffey, Ciara Short, Grace Wakeford, Isabelle Cooney, Amelie Birrell, Robyn Johnson, Hannah Traynor, Clara Dunne, Laura Griffen, Rebecca Brennan, Alannah Dixon, Julie Phelan, Kellie Magee, Molly Callery, Deirbhile Gavaghan, Sarah Allen, Maya Gaynor, Prudence Isaac.