Slí Cualann AC celebrates a successful season
Thriving club honours special achievements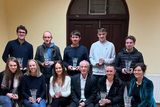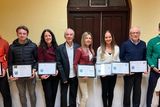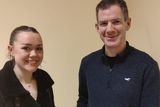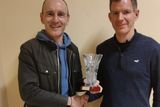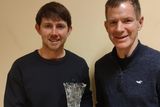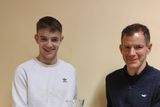 Lizzie Lawlor
Wicklow People
The annual Slí Cualann athletics club awards took place last Saturday evening.
Hosted by Parnell AC, the evening provided an opportunity for members in the club to come together to recognise the special achievements individuals and teams have made over the previous year.
Chairperson of Slí Cualann A.C, Terry Kavanagh presented the awards on the evening.
Alex Carey was the first award recipient of the evening, winning the junior women category. Alex is a middle-distance athlete and has been tearing up the roads, cross country and track circuits over the past year.
The young athlete medalled in every event she raced on the track in Sli Cualann colours this year including the Leinster junior championships where she placed second in both the 1500m and 300m.
Daniel Quirk won the junior men's star award. Daniel is a versatile multi-event athlete with a very impressive 2022 medal tally. Some of his achievements over the last year included his triple gold haul at the Leinster indoors in the triple jump and long jump and 60m hurdle events at the beginning of the year.
The U23 men's star award was presented to Joe Dowd. Joe would consider himself to be a track specialist. However, a highlight for Joe's years from the club's perspective was when he impressed all in the senior men's Leinster cross country championships.
In a 10km race on the grass, hills and muck, it was fair to say the 1500m track specialist was in new territory. Nonetheless, Joe executed an excellent race and stormed home to take the individual bronze medal and led the Slí Cualann men home to club gold.
This was the first time that a Slí Cualann men's team has ever taken the title, the team also included Robin Mooney (12th), Tim Grummell (22nd) and Donal Flannery (25th).
Alana Ryan was awarded the U23 women's star award. Alana has a busy lifestyle juggling both work, college and competing at a high level. She competed sparingly in 2022 but made it count every time. A highlight for the sprinter was when she earned another personal best of 24.70s in the 200m at the AAI Games in Santry.
The Senior women's star award was presented to Síle O'Byrne. As Slí Cualann women's captain, Síle has contributed hugely to the success of the Slí Cualann women's teams during 2022.
She led many of the team's home to national and provincial medals and picked up a few individual podium places too.
Her most notable success was her silver medal taking at the National 5-mile road championships where she also led the Slí Cualann team home to silver. Alongside Catherine O'Connor and Lynne Whelehan Sheehan, Sile was presented with the team of the year award for their success at these championships.
Derek Crammond was chosen as the senior men's award winner. Derek is a multi-talented athlete who has succeeded at everything he has undertaken from cross country, trail running, road races, hill running and the marathon.
Most notably, the athlete had a great summer taking wins and breaking course records in mountain running events. As a result of these performances, the Avoca man was selected by IMRA to represent Ireland at the 65th Trofeo Ezio Vanoni mountain running relay in Morbego, Italy.
Slí Cualann A.C. men's captain Brian Geraghty was presented the master men's star award. Brian has had an impressive year, dominating his M45 age category across multiple terrains. Brian competed in six races during 2022. Out of those six races, he won five gold M45 medals.
Catherine O'Connor was a popular winner of the master women's star award. Catherine has had a truly remarkable year, one in which she represented and won individual and team silver for Ireland in the half marathon at the World Masters Athletics Championships in Tampere, Finland. Later that week, Catherine competed in the 8km cross country where she won a bronze medal in her category and team gold.
The most improved award is designed to honour any up-and-coming athletes who have made a significant improvement during the year. The Slí Cualann committee presented the award to Rachel Cole, Donna Quinn, and Robin Mooney on the evening.
All three athletes Rachel, Donna and Robin have gone from strength to strength during 2022, breaking personal bests across many distances. Rachel who prefers longer distances knocked minutes off her half marathon and marathon times during.
In April, she ran 1.57.18 in the 2022 Regeneron Great Limerick Run Half Marathon. By December she took a whopping 12 minutes off that time clocking 1.45.29 at the Waterford AC half marathon.
In October, Rachel achieved a time of 3hours 43minutes at Dublin City Marathon, taking a phenomenal 35 minutes off her previous personal best.
Like Rachel, Donna took giant strides in 2022 demonstrating an ability to perform on the big days.
The high point may have been her bronze category medal at the National Half Marathon in Rathoath and winning a silver team medal.
Robin is a stalwart for Sli Cualann, he trains hard and is always there for teams. Robin's 2022 cross country season was remarked by all, he was a key member and scored for the team in each event contested including the Slí Cualann men's team that took gold at Leinster Novice and Senior cross country championship.
Later that evening, Robin was presented with men's team of the year alongside Alex Van Buttinga Wichers, Joe Dowd and Tim Grummell for their gold medal efforts at Bellurgan in the Novice XC.
In addition to the above, special and international recognition awards were presented to several athletes to mark their particular achievements during 2022.
These athletes included Luke Weldon, Derek Crammond, Sarah Baryga, Debbie Griffin, Catherine O'Connor, William Belton, and Tom McCarthy.