Notes from the golf clubs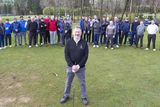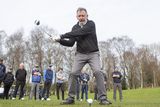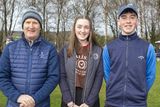 Sunday, March 19 – 15-hole singles stableford – 1st: Noel Lally (12) 33 points; 2nd: Don O'Connor (Best Gross) (3) 32 points c/b; 3rd: Noel McDonald (10) 32 points; Class 1: Tony Russell (9) 30 points c/b; Class 2: Noel O'Byrne (14) 31 points; Class 3: Aaron Healy (19) 29 points c/b.
BLAINROE
Men's results from March 19 – Winner: Brendan Hawes (17) 33 points; Runner up: Ian Brown (7) 32 points; 3rd: Hugh O'Brien (27) 32 points; 4th: Aidan Whelan (14) 31 points; Class 1: Andrew Doyle (7) 30 points; Class 2: Garry King (10) 29 points; Class 3: Peter Burgess (12) 27 points; Class 4 Winner: Edward Kelly (18) 30 points.
MACREDDIN
Maccreddin Golf Club captain Martin Gannon had his drive-in to kick off the golf season recently. We had a champagne scramble with some very good scoring.
The winners were Chris Murphy's team with 104 points. Second were Jack Byrne's team with 98.
It was a very enjoyable day with a great turn out of members and the course was in great condition.
BALTINGLASS
Upcoming Events
Thursday, March 23, to Sunday, March 26, sixth round Easter League. Play holes 1-6 and 9-16. Placing everywhere.
Thursday, March 23, at 7pm, Ukrainian Irish Music night is being hosted in the club. All members are very welcome to this very entertaining evening. Admission is free with light refreshments served.
Saturday, March 25, at 8.30pm, Club Table Quiz. All are welcome. If you can't fill a team, just come along and teams will be filled on the night.
The Social & Fundraising committee are running a prediction on 'The Masters 2023'. Entry forms are available in the bar at €10 per entry.
Results from the fifth round of the Patterson's Butcher's Easter League:
Men: Cat 1: Dave Nolan, 37 points; Cat 2: Ned Cremin, 34 points; Cat 3: Owen Cooney, 32 points; Cat 4: Darren Fluskey.
Ladies: Fiona Keogh, 30 points; Mary Walsh, 28 points; Clare O'Neill, 28 points.
League tables and domestic handicaps to follow later in the week.