Josh van der Flier and Jack Conan enjoy epic conclusion to an unforgettable voyage
Wicklow duo to the fore in historic Grand Slam victory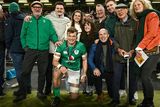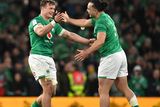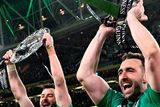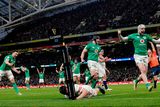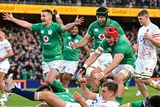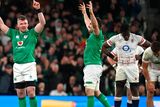 If you were to pick a moment to receive your 50th Ireland cap, then a huge game against England at a packed Aviva Stadium on St Patrick's weekend with the Six Nations Grand Slam at stake would probably be well up there on the list of desired dates.
There's very little chance that Wicklow's Josh van der Flier will ever forget his halfway to a hundred checkpoint as he brought the curtains down on what has been a splendid tournament for the Garden County star with yet another superb display.
Bray's Jack Conan roared off the bench yet again, this time after 55 minutes for Peter O'Mahony, and proceeded to more than catch the eye, producing a stunning offload out of a double tackle to send Dan Sheehan for the line and put Ireland well clear.
What an amazing tournament for the Co. Wicklow pair as they continue to impress superbly!
England, reduced to 14 when Freddie Steward was shown a red card for a dangerous challenge on Hugo Keenan after 40 minutes, put it up to Andy Farrell's charges for most of this thrilling encounter.
Ireland led 10-6 at half-time, Dan Sheehan's 32nd-minute drive over the line adding to Sexton's penalty as he became the Six Nations all-time top points scorer with the crowd rising as one to show their appreciation.
Owen Farrell's third penalty increased the tension but this year's standout side in the Six Nations crossed for two damaging tries just past the hour mark, as Henshaw and Sheehan poushed Ireland ahead by 15 points.
After Jamie George and Herring swapped closing tries for a final scoreline of 29-16, Ireland could celebrate their first Grand Slam to be won in Dublin, their first Six Nations title since 2018 and fourth in ten seasons, and a record seventh Triple Crown of the Six Nations era.
Andy Farrell paid tribute to all involved afterwards as his unbeaten Ireland team finished seven points clear of closest rivals France - with three bonus points added for the Grand Slam - and captain Sexton ended his Six Nations career with a new record of 566 points.
"I'm just elated for the boys, just to get it over the line. Because it meant so much for them, especially being here, at home," he said.
"Only the fourth one in Irish history, you know. And the first one at home (in Dublin), you know, it's a special occasion. I would say there is a sense of relief to get the job done, but immensely proud.
"I'm just so glad for the group, it's just so fitting when you look at the year that we've had. To be able to finish it off like that is so deserving in so many ways."
"Josh van der Flier, what a season he's had. What a fitting moment it is to get his 50th cap on such an occasion like that.
"For captain Johnny here to finish his Six Nations campaign...he's been saying all week that this is what dreams are made of, it doesn't come around that often.
"It's unbelievably fitting that in my opinion the best player ever to play for Ireland is able to sign off on a Grand Slam on St Patrick's weekend, in front of his home crowd.
"Just, there's a lot of stars that have aligned over the last eight weeks and accumulated into this evening."