Wicklow's league hopes dashed as determined Donegal gain revenge for earlier trouncing
Missed chances key as O'Brien's men now turn attention to Nicky Rackard Cup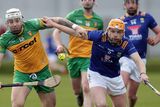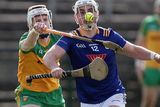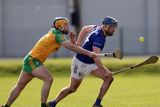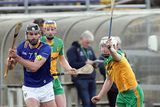 Mark Kennedy
Wicklow People
Donegal 0-18
Wicklow's hurlers failed to realise their cherished ambitions of reaching the Division 2B league final and securing promotion at the weekend.
A win would have made it really great for the county as it would have brought up a dream double for Wicklow with the footballers securing promotion to Division 3 following a 2-8 to 0-8 win over lowly Waterford and setting up a showdown with promotion companions Sligo for the league title.
Standing in the way of Casey O'Brien marching his troops to the summit of success once again was 14-man Donegal who came away from Echelon Park Aughrim on Saturday with a heart-wrenching one-point victory.
And it was not that Wicklow didn't have their chances. Indeed, they had many, including two from Christy Moorehouse and substitute Mikey Lee at the death to secure a draw to put the game to extra-time.
Instead, Donegal held on by their fingernails for a 0-17 to 0-16 victory at the last hoot of Thomas Walsh's whistle, thereby reversing the result of their group clash two weeks earlier when the Garden men trounced Donegal by a whopping 2-24 to 0-11.
And even more galling was the fact that Donegal played almost the entire second half with 14 men, and against the wind as well as Wicklow, and still lived to fight another day and achieve a league crown as well as promotion.
The second half was only minutes old when centre-forward Ronan McDermott was handed a second yellow card and given his marching orders. Wicklow's freetaker Christy Moorehouse delivered further punishment as he converted the transgression into a point to cut Donegal's half-time lead to 0-10 to 0-7.
A precarious one score lead for any team to defend. Furthermore, they were now playing against the wind as well as Wicklow. Not an easy thing to have to do. But when the going got tough, Donegal got going.
Winger Jack O'Loughlin assumed the role of central defender in the absence of centre-back Bernard Lafferty, who did not start. Jack played a stormer from start to finish, inspiring his teammates to dig in, scraping for everything.
At the other end of the field wing-forward Liam McKinney was an equally inspirational figure with his nine points from frees and one 65. At the death Wicklow were rampaging for a draw, but Donegal stood tall and held out for their 0-17 to 0-16 victory.
Almost certainly Wicklow would have felt they missed the steadying influence of the injured John Henderson (hamstring) in defence to combat the Donegal marauders. Against that, Donegal were also without a number of their big guns, including Stephen Gillespie, Declan Coulter and Danny Cullen.
Corner-forward Daire O Maoileidigh signalled Donegal's intent with a lead point after 30 seconds. However, Wicklow corner-forwards Christy Moorehouse and Seanie Germaine twice levelled the scores in the opening four minutes.
Donegal's centre-forward Ronan McDermott nailed a long-range point from the midfield area and, when Andrew Kavanagh committed a foul off the ball, Liam McKinney stretched the northerners' lead to 0-4 to 0-2 after ten minutes.
McKinney repeatedly punished Wicklow's indiscretions throughout this match. Furthermore, he struck up a fruitful relationship with his centre-forward Ronan McDermott.
With the wind at their backs Donegal were bombing balls down on the Wicklow goal and full-forward Ritchie Ryan was causing more anxiety in front of the Wicklow posts as he plucked those missiles from the sky.
At the other end Wicklow's Christy Moorehouse pulled a shot wide of the posts. And he was winning nothing off his marker in general play. Perhaps an early portent of how the game was going to pan out.
Donegal were setting the pace and their number seven, Jack O'Connor, was playing a blinder and sweeper in the half-back line and he also found time and space to push forward and put his name on the scoresheet.
Liam McKinney repeatedly harvested points from frees and Ritchie Ryan plucked the sliotar from the clouds for a point. Donegal had pushed the boat out to 0-7 to 0-2 after 22 minutes.
Wicklow had not scored for almost 20 minutes. But they finished the half much better, matching their opponents with three scores: one point from corner-back Martin O'Brien and a brace shot by Moorehouse. Wicklow trailed 0-10 to 0-5 at the break. At least the scoreboard looked healthier now.
In the absence of the injured John Henderson, Wicklow transferred Danny Staunton to defensive duties. Staunton put in a magnificent shift in the half-back line. To the manor born, so to speak.
Inside four minutes of the restart Wicklow had pared the winner's lead down by more than half as Eoin McCormack, Moorehouse from a free, and midfielder Diarmuid Masterson all raised white flags. Wicklow now had the wind in their sails.
In between Donegal appeared to be in even more serious trouble. They were down to 14 men as centre-forward Ronan McDermott received a present of a second yellow from Waterford referee Thomas Walsh.
However, Liam McKinney quickly demonstrated that Donegal were not cowed as he responded with an answering point. Moorehouse pointed for Wicklow from an acute angle. The margin down to 0-11 to 0-9 after 36 minutes.
Six minutes on and Donegal were breathing easier as McKinney and midfielder Ciaran Bradley made it 0-13 to 0-9.
Andy O'Brien came off the Wicklow bench and soon he was pumping the air to celebrate the first of two points. And he almost finished to Donegal's net but the keeper Luke White came to the rescue, pushing the sliotar around the post for a 65. Moorehouse duly converted.
At the end of the third quarter Wicklow trailed 0-14 to 0-11. Donegal were still showing no surrender. They too went close to pilfering a goal, but keeper Conor McNally and his backs stood firm. Andrew Kavanagh picked up a yellow for a wild swing.
Wicklow were still two points adrift at 0-17 to 0-15 as the game neared the end. On the 70-minute mark Christy Moorehouse raised his eighth white flag. 0- 17 to 0-16, a one-point game.
In the dying moments, Wicklow had chances of levelling up and putting it to extra-time. Unfortunately for them Christy Moorehouse pulled a free from midfield wide of the sticks and Mikey Lee was off target too.
Thomas Walsh tooted on his whistle for the last time. Donegal winners and through to the 2B final against Meath. Heartbreak was the end result for Wicklow.
Wicklow: Conor McNally; Ben Kearney, Andrew Kavanagh, Martin O'Brien (0-1); Pádraig Doran (0-1), Padraig Doyle, Sam O'Dowd; Luke Maloney, Diarmuid Masterson (0-1); Daniel Staunton, Eoin McCormack (0-1), Davy Maloney; Christy Moorehouse (0-8, 7f, 1 65) Gavin Weir, Seanie Germaine (0-1). Subs: Mark Murphy for D Maloney (48), Andy O'Brien (0-2) for P Doyle (48), Mikey Lee (0-1) for G Weir (57), Eoghan Byrne for D Masterson (62).
Donegal: Luke White; Stephen McBride, Michael Donoghue Padraig Doyle; McDermott, Ryan Hilferty, Jack O'Loughlin (0-1); Brian McIntyre (0-2), Ciaran Bradley (0-1), Liam McKinney (0-9, 8f, 1 65), Ronan McDermott (0-1), Sean Ward; Daire O Maoileidigh (0-1), Richie Ryan (0-1), Ruairi Campbell (0-1). Subs: Oisin Marley for S Ward (53), Conor O'Grady for C McDermott (53), Paul Nelson for R Campbell (63).
Referee: Thomas Walsh (Waterford)