Wicklow Minor hurlers fall to clinical Carlow in Leinster championship
Goals prove bad blows for Barry's side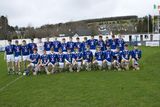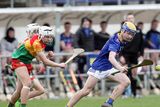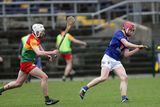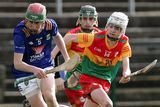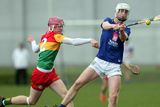 Mark Kennedy
Wicklow People
Carlow 3-19
The Wicklow Minor hurlers fell to a 15-point defeat to neighbours Carlow in this tier two Leinster championship clash at Echelon Park Aughrim on Saturday afternoon.
This defeat makes it very hard, if not impossible, for Wicklow to progress from Group 2 and set up a showdown with the Group 1 winners for the right to participate in the Leinster Minor championship proper.
Wicklow will face off against Kildare in their second and last group game in two weeks' time and this is a match they must win - and by a huge margin to boot - if they are to be in with any chance of progressing further.
With the wind lending its support in the first half on Saturday, Wicklow had a tonic start to the contest with a morale-boosting goal by corner-forward Fionn D'Arcy in the first minute.
Mark Barry's soldiers were scrapping for everything, they were hassling their opponents at every twist and turn, keeping them under pressure and were rewarded with a 1-1 to 0-1 lead after five minutes.
Just when we thought that Wicklow were settling into their comfort zone the wheels came off the wagon. In the space of a few minutes, they were hit by two goals. Carlow in front 2-2 to 1-1 after nine minutes – a lead that they never lost. Instead, it grew and grew.
The first goal was rifled to the net by corner-forward Kyle Nolan. The second was a heart-breaking own-goal as Tom Meyler attempted a back-pass to his keeper. But there was no one guarding the house at the time and the sliotar dribbled nonchalantly to the net.
Carlow were powered by six players from famed Mount Leinster Rangers, who were backed up by five more from Burren Rangers. Combined, we expected Carlow to pack a fair punch.
As Wicklow manager Mark Barry observed - once Carlow got their nose in front, they set up defensively to counter any further threat from Wicklow. Under pressure, Wicklow gifted a lot of opportunities to their opponents through frees conceded.
Top scoring midfielder Ruairi Murphy and centre-forward Jake Nolan accepted such gifts enthusiastically. Jake Nolan popped five over the Wicklow bar as well as scoring their third goal, while midfielder Ruairi Murphy chipped in with three first-half points, two of them from placed balls.
By the end of the first quarter Carlow had extended their lead to 3-6 to 1-1.
On the other hand, Wicklow had not raised a flag of any colour for 20 barren minutes. Then in the last 10 minutes of the half, Wicklow regrouped and got themselves in some shape.
Pressurised, Carlow were forced into conceding frees, resulting in Wicklow ace and sharpshooter centre-forward Lorcan Byrne putting five of them unerringly between the Carlow sticks.
Wicklow were still trailing 3-13 to 1-7 at the break but there was a far healthier complexion on the scoreboard.
After the half-time pep-talk, Barry was even more pleased with his team's second-half performance. Even though they were only successful in putting three additional points on the scoresheet.
"We got a lot more from our players in the second half, we controlled the game, and the subs gave us impact," he said.
Off the bench came David Peppard, Oscar Lane, Ciaran Traynor and Cathal Kirby. The whole team responded, but their deliveries from puck-outs did not always hit their intended target.
Carlow now had wind advantage in the second half. In the third quarter they had only increased their total by a mere two extra points. Lorcan Byrne had converted another free for Wicklow. A measure of Wicklow's stronger showing in the second half. Unfortunately, the scoreboard did not do it justice.
And that pattern continued right to the last toot of Matthew Redmond's whistle. Carlow clear winners by 3-19 to 1-10.
Wicklow: Tristan McNally Doherty (Bray Emmets); Jack Gregan (Carnew Emmets), Ken Cullen (Carnew Emmets), Tom Meyler (Éire Óg Greystones); Emmett Ronan (Glenealy), Darragh Shannon (Kilcoole), Daniel Burns (Éire Óg Greystones); Killian O'Keeffe (Shillelagh-Coolboy), Alec Bartec (0-1) (Éire Óg Greystones); Joshua Barry (Éire Óg Greystones), Lorcan Byrne (0-8, 8f) (Ballymanus), Andy Corcoran (0-1) (Kiltegan); Max Kehoe (Blessington), Seamus D'Arcy (Éire Óg Greystones), Fionn D'Arcy (1-0) (Carnew Emmets). Subs: David Peppard (Hollywood) for J Barry, Oscar Lane (Éire Óg Greystones) for F D'Arcy, Ciaran Traynor (Hollywood) for Max Kehoe, Cathal Kirby (Éire Óg Greystones) for Killian O'Keeffe.
Carlow: Joe Bermingham (Setanta Carlow Town); Martin Carroll (Burren Rangers), Gavin Murphy (Mount Leinster Rangers), Eoin Doyle (Burren Rangers); Dylan McGrath (Setanta), Mark Dundon (Mount Leinster Rangers), Cillian Murphy (Burren Rangers); Ruairi Murphy (0-7, 6F) (Mount Leinster Rangers), Conor De Lacey (Naomi Brid); Colm Kavanagh (Ruairi Óg), Jake Nolan (1-5, 5f) (Burren Rangers), Jack Foley (0-2) (Mount Leinster Rangers); Kyle Nolan (1-0) (Mount Leinster Rangers), Joey Dalton (0-4) (Mount Leinster Rangers), Robbie Ward (Burren Rangers). Subs: Cian Meaney (Ballinkillen) for C Kavanagh, Andy Jordan (Naomh Eoin) for M Carroll, Jack Kelly (Naomh Eoin) for R Ward, Patrick Kelly (Bagenalstown Gaels) for R Murphy, TJ D'Arcy (Bagenalstown Gaels) 0-1 for J Foley.
Referee: Matthew Redmond (Kildare)