Knockananna dominance continues with comfortable win over Bray Emmets in Senior camogie league decider
Defending champions head for championship in fine form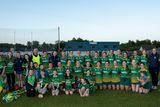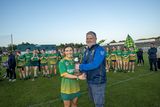 Mark Kennedy
Wicklow People
Knockananna are the undisputed queens of camogie in the county at the moment.
They emphasised that once again at Echelon Park Aughrim on Tuesday last when they chalked up a decisive 10-point victory over battling Bray Emmets in the Senior league final.
The defending county champions came to the match with an unbeaten record throughout the campaign, albeit held to a draw by Kiltegan, their near neighbours.
And they came to the final with much more besides. They had four successive league wins since 2019, three Senior championships, a Leinster Junior in 2022 and an All-Ireland in 2021.
That's a lot of history and achievement that the Bray Emmets side had to confront and contend with, and while they fought hard and defended stoutly, they just could not match the awesome firepower that their opponents had in their arsenal.
Knockananna went in for the kill from the off. Applying persistent pressure, they were met with resolute resistance from Bray.
Goalie Siofra Ni Mhidigh denied Ciara Byrne's Garryowen effort and Knockananna had to wait 10 barren minutes before getting on the scoreboard.
But when Knockananna did register, it was a sucker-punch from lethal full-forward Ciara Byrne who then backed up her goal with two brilliant points, the second just before half-time from an acute position.
Centre-forward Rachel Byrne was Ciara's partner in crime, chipping in with three glorious points, two from 45s.
Bray's keeper Mhidigh and her colleagues mounted an excellent defence of their goal.
Full-forward Emma Nesbitt put Bray Emmets on the scoreboard with a point after 24 minutes, but overall, they lacked sufficient power and penetration upfront to make a real difference.
Knockananna led by 1-5 to 0-1 at half-time but the game was not done and dusted at that stage.
Central defenders Saoise Canavan and Laura Doyle were fronting Bray's stubborn resistance, resulting in Kockananna being held scoreless in the third quarter.
But neither was Bray making much headway attacking-wise, though their number 13 Niamh McCornack was frequently catching the eye.
Bray Emmets kept funneling players back to in an effort to thwart and frustrate Knockananna. At the three-quarter stage the scoreboard still read 1-5 to 0-1, the same as at half-time.
Corner-forward Sarah Byrne got the Knockananna juggernaut cranked up again with the first point of the second half. But it was Rachel Byrne who again delivered the grace notes, five points from frees and a 45 to bring her total to 0-8 for the hour.
On 60 minutes, corner-forward Caoimhe Lohan bagged a goal for Bray Emmets but it needed to come much earlier to fire up the passion and spirits of the Bray girls.
Based on their showing in the league, it is going to be hard to stop Knockananna from making it another Senior league and championship double when the championship comes around later in the year.
Knockananna: Erin Moules; Emily Mulhall, Aine Byrne, Alice Mulhall; Eimear O'Sullivan, Emily Hadden, Niamh Byrne; Shannagh Goetelen, Aimer Maher; Eimear Breslin, Rachel Byrne (0-8), Roisin Byrne; Sarah Byrne (0-1), Ciara Byrne (1-2), Sinead Byrne. Subs: Eimer Mutton for A Mulhall, Aine McDonald for Sinead Byrne, Aisling Fleming for Sarah Byrne, Ciara Byrne for E O'Sullivan.
Bray Emmets: Siofra Ni Mhidigh; Vicki Crimmins, Laura Doyle, Marta Lackey; Aine Farrell, Saoirse Canavan, Emily Deveney, Emma Doyle, Jane Butler; Kellie Gilbert, Clare Benville, Ciara Slattery; Niamh McCormack, Emma Nesbitt (0-1), Caoimhe Lohan (1-0). Subs: Ailbhe Whittle for C Slattery, Aoibhe Traynor for C Benville.
Referee: Sinead O'Leary (Carnew)