Junior 'B' football joy for Coláiste Ráithín girls after victory over St. David's in Greystones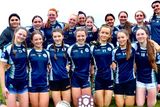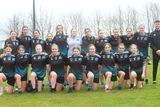 Andrew Ryan
Wicklow People
St. David's 3-6
COLÁISTE RÁITHÍN came from two goals down – and then avoided being on the receiving end of a near identical last gasp comeback – to outlast St. David's and be crowned Wicklow Schools Junior 'B' Cup champions.
A rampant two-minute period at the start of the second half made all the difference, as two quickfire majors wiped out a lead that St. David's had diligently accumulated in a nip-and-tuck opening half. And while David's would react and close to within two points in the dying embers with a late goal, Ráithín saw the job out to emerge victorious.
Conditions in Greystones facilitated a scrappy but closely fought game of football. Puddles of water had built up in a handful of sections on the pitch, reflections of the poor weather that had preceded throw-in.
Fortunately, once action got underway, the downpour fell away and stayed away, leading to a thoroughly engaging football that built from methodical opening exchanges to a helter-skelter clash between two close rivals.
While the opposite would prove to be the case in the second half, Coláiste Ráithín struggled to turn chances into scores in the first. While they were more than capable of getting into dangerous areas, with Neasa Nic Ghiollachada and Alix Megannety causing problems throughout the game, their decision making in the final third of the pitch left plenty to be desired.
It was the Gaelscoil that would draw first blood on 14 minutes through Nic Ghiollachada's opening point of the day after Megannety had turned over a David's kick-out, but by that stage, they had built up three wides as they tried to find their bearings.
However, the Greystones school responded magnificently. Within a minute, they were in front thanks to the first goal of the game, an inauspicious effort from Holly Sheehy that looped over the head of Kate Harding following a flowing counter-attack with Charlotte Hudson at the epicentre.
Raithin closed to within a couple of points through Isealt Nic Ghiolla Mhaoil, but David's went up the other end to get their second goal. Whereas the first was fortunate, the second was deliberate in its construction.
Once again, Holly Sheehy was the goalscorer. She picked the ball up out the field and shipped it left to partner-in-crime Charlotte Hudson. The silky wing-forward looped the ball towards the square, where Sheehy had continued her run to pick up and rifle home.
The two sides exchanged scores as the game approached the break, with St. David's seemingly in command at 2-3 to 0-3.
Whatever was said at half-time worked a treat for Coláiste Ráithín, who came flying out of the blocks and flipped the game on its head in unforgiving fashion.
With less than a minute gone, Nancy Ni Artaigh shot wide after combining with Megannety, and on 32 minutes, they got their first of two quickfire majors. Megannety was involved in the build-up, using her power and strength to cut inside before smashing the bottom of the post with a rasping effort.
It popped out to Niamh Nic Reamoinn, who had the simplest of tasks to roll the ball in. On 33 minutes, they were back on level terms when the excellent Neasa Nic Ghiollachada bundled home following a good save from Chloe Eyre.
A minute after that, they led through a Nic Reamoinn point.
St David's tried their utmost to gather themselves and respond and kept to within a couple of scores thanks to substitute Niamh Kelly. They thought they had their third goal when a Holly Sheehy effort took a series of deflections before resting in the bottom corner, but for it to be ruled out for a square ball.
Coláiste Ráithín's response was deadly as, on 47 minutes, they had their third when Megannety and Nic Ghiollachada combined for the latter's shot to deflect agonisingly beyond Chloe Eyre.
St. David's returned to within a goal of victory in injury time when Sheehy's quick free found Lauren O'Leary to blast in. It was too little, too late, however, as Coláiste Ráithín held on for victory.
Coláiste Ráithín: Kate Harding; Jorga Ni Cheallaigh, Orla Ni Siomoin, Laoise Ni Bhrisceoil; Siofra Ni Bheaglaoich, Anna Ni Chonchubhair, Regan Nic An Ri; Abaigeal Ni Nuallain, Rosa Lackey; Niamh Nic Reamoinn (1-1), Nancy Ni Artaigh (0-2), Neasa Nic Ghiollachada (2-3); Lili Nic An Airchinnigh, Alice Megannety (0-1), Isealt Nic Ghiolla Mhaoil (0-1). Subs: Hazel de Roiste for S. Ni Rheaglaoich (HT).
St. David's: Chloe Eyre; Anna O'Driscoll, Maria Hassett, Evelyn Kirwan; Sarah Duff, Holly Goodwin, Holy Dunne; Lauren O'Leary (1-1), Ella Andrews (0-1f); Charlotte Hudson (0-1), Caoimhe Davis, Lucy O'Leary (0-1); Nicole Maxwell, Holly Sheehy (2-1), Aoife Fox. Subs: Aine Fitzgerald for A. O'Driscoll (HT), Niamh Kelly (0-1) for A. Fox (38), Matilda Gustafson for N. Maxwell (60).
Referee: Michael Owens