Bright start to Scallan's reign as Carnew topple experimental Bray Emmets in league opener
Donohoe shines as Carnew see off depleted Bray outfit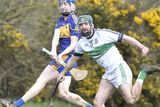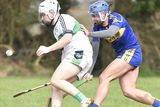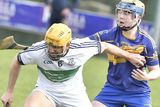 Brendan Lawrence
Wicklow People
Bray Emmets 1-16
Eamonn Scallan's tenure as Carnew Emmets Senior hurling manager got off to the best possible start on Sunday morning when his charges defeated visiting Bray Emmets by 4-15 to 1-16 in the opening round of the Senior hurling league.
However, neither the Carnew Emmets manager or Bray boss Paul Carley will be giving the result of this game very much thought given that the defending county champions were without 10 players who were away in Sligo with the Wicklow team along with Pádraig Doran, Jack Doyle and Martin O'Brien from the home side.
What the former Wicklow boss will be pleased about is the application of his players, the showings from the younger members of the panel, the display from Enda Donohoe, the first outing of Kilkenny native Damien Alyward at centre-back and the fact that they scored a decent tally of 4-15, 4-6 from play, which has been an area of serious concern in recent years.
The Bray Emmets players formed a circle after the game with manager Paul Carley addressing the group and it's very likely that the positives from their performance on a March morning in a cold but dry Carnew and the fact that a long season beckons with plenty of potential across all the adult hurling teams in the club were aspects of the conversation.
This was a very entertaining battle from start to finish with two late goals from Carnew killing off the Bray Emmets challenge.
Carnew took the game to the visitors from the off, the lively Dan Redmond rattling Peter O'Reilly's crossbar before Enda Donohoe slotted the first of his seven points (four frees and a 65) from the resulting 65 and the same man fired over a free won by John Doyle Snr to open up a 0-2 to 0-0 gap.
Mikey Boland, fresh from his epic 2-17 tally in the Dublin Division 3 league against Round Towers, fired over a free won by the impressive Oscar Harty before the excellent Marc Lennon collected from Peter Walsh and fired over a beauty to level matters.
Carnew's first goal arrived after eight minutes and came from the hurl of full-forward Eoin Kavanagh who fired home from close range, and this was followed by a fine point from Wayne Kinsella who was impressive.
Lennon grabbed his second after 11 but Bray followed that with two wides before Mikey Boland chipped in with another free to make it 1-3 to 0-4.
Points from John Doyle Snr and Donohoe (free) were answered by two Boland frees to leave Carnew ahead by 1-5 to 0-6 after 21 but with nothing between the sides in terms of possession.
Carnew enjoyed a very productive eight-minute spell from here, Dan Redmond firing home their second goal and Owen Young adding three frees to make it 2-8 to 0-6 after 29 with Bray losing the impressive figure of Seanie Maloney to injury.
Paul Carley sent in Andy Conway to the forwards with James Byrne dropping to defence and Brian Nesbitt to midfield.
But Bray recovered superbly, corner-forward Jack Fitzgerald pouncing on a short restart from the home side to grab their goal and three points, two Boland frees and a superb score from Brian Nesbitt to leave it 2-8 to 1-9 in favour of Carnew at the break.
The third quarter was nip and tuck, Marc Lennon opening Bray's account in the second half but with Enda Donohoe really catching the eye when driving over a free from way out before catching the subsequent Bray puck-out and sending it back over the black spot to the delight of the home supporters.
Three Boland frees with a sweet Eoin Kavanagh point from play in the middle left Carnew ahead by one and although Owen Young pushed Carnew further ahead with a pointed free, two sweet strikes from Boland had the sides level at the end of the third quarter during which Bray had also lost Peter Walsh to injury.
An Enda Donohoe pointed free and a booted goal from Justin House turned the game in Carnew's favour in a significant way and when Donohoe (free) and Wayne Kinsella (after a class catch) raised white flags to make it 3-15 to 1-15 with five to go, the Bray men were in trouble.
Paul Carley sent in three subs just before Marc Lennon fired over his fourth for the day, but the win was sealed by the home side when Dan Redmond finished home to the back of Peter O'Reilly's net to make it 4-15 to 1-16.
A tasty win for Carnew Emmets who had fine showings from Ruairi O'Brien and Richard Greene while Damien Aylward looked useful at six.
Bray Emmets will view this as a decent competitive game of hurling where they got to look at various players in different positions. The result will be immaterial.
Carnew Emmets: Aaron Redmond; Cormac Redmond, James McGing, John Young; Aaron Kinsella, Damien Aylward, Ruairi O'Brien; Justin House (1-0), Enda Donohoe (0-7, 4f, 1 65); Wayne Kinsella (0-2), John Doyle Snr (0-1), Owen Young (0-4, 4f); Dan Redmond (2-0), Eoin Kavanagh (1-1), Richard Greene. Subs: Billy Molloy, Conor Byrne, Jake O'Dwyer.
Bray Emmets: Peter O'Reilly; Karl Lacey, Sean Maloney, Daniel Kennedy; Sean Kenny, Peter Walsh, Gavin Henderson; James Byrne, Ronan McMahon; Sean McDonagh, Marc Lennon (0-4), Oscar Harty; Jack Fitzgerald (1-0), Mikey Boland (0-11, 9f), Brian Nesbitt (0-1). Subs: Shane Anders, Fiachra Ó Dunai, Jamie Ryan, Andy Conway, Liam Kenny.
Referee: Ciaran Manley (Glenealy)