Aughrim rejoice after late surge sees off gallant Glenealy in Intermediate league decider
Aoife Connolly switch outfield key to Granite City victory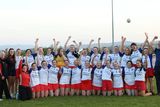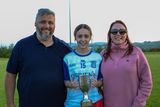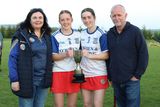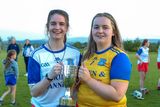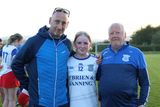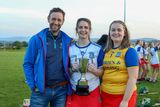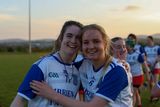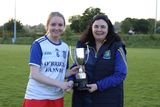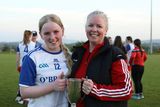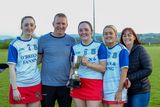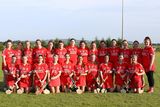 Brendan Lawrence
Wicklow People
Intermediate league final
Aughrim 2-4
Glenealy 0-8
Aughrim delivered a stunning comeback late on to snatch this Intermediate camogie league title from Glenealy's grasp in a pulsating and entertaining decider in Ballinakill on Tuesday evening.
Both sides were well supported on the night and while the standard of camogie might not have set the world alight, the commitment and tenacity of both sides was admirable on a beautiful evening at the Wicklow GAA Centre of Excellence.
The move to push Aughrim full-back Aoife Connolly out to the middle of the pitch in the second half was the decisive factor in this game and helped secure a win that looked nearly impossible by the end of the third quarter when Glenealy led by 0-8 to 1-1.
The Reds had earned that lead through a superb defensive effort, and the style and tenacity of midfielder Laura Manley who had bagged six of their eight scores and proved a vital lynchpin between the defence and attack.
But Connolly's shift out the field spelled disaster for Glenealy as she started to dictate matters and give Aughrim the attacking platform they had been lacking up to that point.
Ciara Connolly cut the Glenealy lead to three points with a fine score after a long run and Aughrim goalkeeper Ava Whelan pulled off a great save from Rebecca Murphy moments later to keep the Granite City side's hopes alive.
A goal from Ciara Connolly with 28 gone left the sides level at 2-2 to 0-8 and Aughrim pushed ahead after 33 with a fine point from a Shauna O'Shea free, although Glenealy felt that their outstanding centre-back Lisa Hogan had been fouled by Aoife Connolly in the lead up to the free.
Aughrim were bursting with confidence now, having looked completely out of sorts in the face of the Glenealy drive and hunger for three quarters of the game.
Kate Campbell intercepted a Glenealy attack and Aughrim swept up the field where Aoife O'Brien picked out the marauding Aoife Connolly who fired over the insurance point with 34 minutes gone.
Glenealy attacked for all they were worth, seeking a match-winning goal but telling interventions by Holly Byrne and Aoife O'Brien helped Aughrim hold out for the sweet win that looking highly unlikely for the vast majority of this game.
Glenealy's energy and desire was evident from the early moments. Abi Farrell collected a poor puck-out and grabbed the opening score of the game, but Aughrim had a glorious chance to raise a green flag from the penalty spot, but Ciara Connolly's effort was saved well by Jessica Driver in the Glenealy goal with eight gone.
Glenealy followed with two of their total of seven wides before Laura Hogan collected a sweetly struck Lisa Hogan free and walloped over the bar for a wicked score.
Young girls should be brought to watch Laura Manley play camogie, and they should try to reach the standard of her first touch, control and striking. All of those aspects of her game are first class.
Aughrim were creating chances but the ferocity and tenacity of the defending of Ria Gregory, Ailbhe Dowling, Nicola Souster, Naoise O'Neill, Hogan and Grace Drumgoole were causing them major problems.
Two Manley frees made it 0-4 to 0-0 while a yellow card for Aughrim's Aoife Campbell didn't help their cause with 20 minutes on the clock.
The Granite City side then grabbed a vital lifeline when Willow Jordan fired home the game's opening goal with 26 gone.
At the other end Ava Whelan saved from Abi Farrell while Shauna O'Shea notched another of Aughrim's total of seven wides right at the end of the opening half.
The third quarter was dominated by Glenealy who added four points to their total, three from Laura Manley and one from Rebecca Murphy to leave it 0-8 to 1-1 by the 15th minute of the second half, Aughrim's point coming from Ciara Connolly.
But from here on the momentum swicted to Aughrim with Connolly's goal seeming to deflate Glenealy's cause and with Aoife Connolly taking command of the middle third you couls sense that the Granite City would have enough.
But Glenealy weren't found wanting for effort. They worked their socks off right to the death with Lisa Hogan putting in a superb shift at centre-back, but time and accuracy let them down, and Aughrim were celebrating when referee Con O Ceadaigh sounded the final whistle.
The Granite City side had fine performances from Ava Whelan, Aoife Connolly, Holly Byrne, the Campbell sisters, Shauna O'Shea, Emma Keenan and Willow Jordan to name just a few.
Aughrim: Ava Whelan; Ciara O'Byrne, Aoife Connolly (0-1), Holly Byrne; Kate Campbell, Aoife Campbell, Niamh Whelan; Ciara Connolly (1-2), Shauna O'Shea (0-1, f); Emer O'Toole, Sheenagh Byrne, Emma Keenan; Willow Jordan (1-0), Katie O'Byrne, Chloe Sheehy. Subs: Aoife O'Brien, Erin O'Toole, Kasey Byrne, Amy O'Neill, Sophie McCarthy, Molly Healy, Jessica Gannon, Aoife Healy, Rebecca McCarthy,
Glenealy: Jessica Driver; Ria Gregory, Ailbhe Dowling, Nicola Souster; Naoise O'Neill, Lisa Hogan, Grace Drumgoole; Laura Manley (0-6, 4f), Kelly O'Neill; Kasey Doyle, April Dickenson, Ciara Jameson; Abi Farrell (0-1), Aine Fitzgibbon, Erynn O'Brien. Subs: Rebecca Murphy (0-1), Aoife Weir, Leah Condell, Meave Shorten, Jade O'Loughlin, Naomi Kennedy, Kara Doyle, Shauna Kely, Nessa Drumgoole,
Referee: Con O Ceadaigh (Kilcoole)