Town in mourning as Wicklow Boxing Club Founder Tom Malone laid to rest
He coached many Leinster and National title holders and was described as a 'legend in boxing'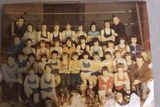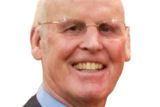 Myles Buchanan
Wicklow People
THE founding member of Wicklow Boxing Club, Tom Malone of St Patrick's Valley, Wicklow town , was laid to rest at Rathnew Cemetery on Monday in his 91st year following his funeral service in St Patrick's Church.
He was the dearly beloved husband of Mary for 67 years and both were being looked after in Knockrobin Hill Care Home.
Tom was predeceased by his son Owen and is survived by and remembered with love by his devoted children Paul, Glenn, Neil, and Gail, his son-in-law, daughters-in-law, grandchildren, great-grandchildren, extended family and friends.
Fr Donal Roche said Tom had a "great work ethic" and spent so many occasions "going to different musical and sporting events."
He also used to regularly bring his family swimming in Bray, eventually finding that a car wasn't big enough and swapping it for two coaches which would bring local children for swimming lessons. Fitness and health was always a major aspect of his life and he was still using the treadmill aged in his 80s, despite having diabetes.
Both Tom and Mary were regular mass goers and Fr Roche recalled still meeting the couple even after they moved in together to Knockrobin Hill Care Team.
"I used to look forward to meeting up with them each Wednesday at Knockrobin and it was wonderful to see them both still looking after one another."
Tom was born and bred in Wicklow town before spending a number of years working over in Southampton, firstly on the docks before setting up his own business.
He returned to Wicklow town in the 1970s and established Wicklow Boxing Club. He also ran a pool hall on Church Street in Wicklow town for a period of time and was a well-regarded painter and decorator.
Johnny Kavanagh's father Pat used to coach alongside Tom at Wicklow Boxing Club, during the club's heyday in the 1970s and 1980s.
He said: "Tom was an absolute legend in both Wicklow and Irish boxing circles. At the time Wicklow Boxing Club would have been one of the strongest clubs in Wicklow from the 70s through to the 80s. It was a hugely popular club and the town was a lot smaller in those days, so nearly everyone had some involvement with the boxing club. Paddy Donovan, Rocky Newsome and my father Pat would also have been involved in the coaching.
"Tom was a great coach and a very good man. He was very driven and was so patient with all the young boxers coming through the ranks. He would have coached a number of All-Ireland and Leinster title holders. He was hugely respected by everyone who knew him and he will be sadly missed."