KWETB career pathway day held in Wicklow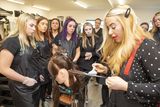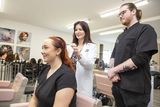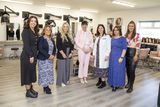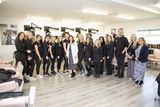 Myles Buchanan
Wicklow People
KILDARE and Wicklow Education and Training Board hosted an inspirational career pathway day of education for the second year as they addressed apprentices from Wicklow and Naas taking part in the Hairdressing Academy.
Trichologist Michelle Christle from Cheveux Hair and Scalp Clinic in Tullamore attended the Hair Academy and inspired the apprentices when she shared her own career pathway and wowed apprentices with her knowledge around the extremely important study of disease and problems related to hair and scalp. Michelle demonstrated a scalp analysis on everyone using a Trichoscope followed by one-to-one consultations.
A lunch was provided by KWETB culinary students from the Talbot collection after which a practical session took place under the guidance of Wella Educator Eryka Reid. The hairdressing apprentices got to experience on trend hair lightening techniques demonstrated by Eryka before getting some hands-on experience.
Kildare and Wicklow Training Services have a state-of-the-art hairdressing academy in Wicklow and Naas where they deliver the National Hairdressing Apprenticeship, traineeships, and short accredited courses for upskilling those already in the hairdressing Industry and those returning to the Industry.
KWETB Training Services have recently opened a brand-new Barbering Academy where there are accredited part time and full-time courses available.
Expressions of interest are now open for the new intake of the National Hairdressing Apprenticeship in the Wicklow and Naas Academy. You can register your interest through https://hairdressingapprenticeship.ie/expression-of-interest-form-2/