Wicklow Councillor calls for more 'balance and diversity' in local government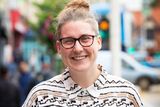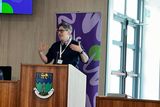 The difficulties of balancing family life with caring roles were highlighted by Bray Sinn Féin Councillor Grace McManus, at the regional launch of the National Women's Council of Ireland's (NWCI) 'Toolkit for Local Authorities on Supporting Family-Friendly Local Government'.
As a member of the steering committee for the project, Cllr McManus outlined the significance of the toolkit at the launch in Wicklow, on Monday, May 8, which advocates for a more balanced local government in our communities and aims to ensure the role of the councillor is accessible to all and attracts the diversity it deserves.
"I remember at an early meeting of Wicklow County Council, there was an unexpected time extension called, and I saw the Councillors who were also parents take out their phones and text under the table, presumably to babysitters and partners at home saying they'd be late," Cllr McManus said.
"It struck me how difficult it must be to balance this role and caring responsibilities, and this motivated me to reach out to the National Women's Council to contribute to this work.
"A huge amount of work went into this toolkit by NWCI, the steering committee, and Doody Facilitation and Consulting Limited. It centres the experience of Councillors, while keeping an eye for the needs of those who might not yet be at the table, and offers practical ideas of how to change how we do local democracy to better support the contribution of parents and carers."
"I believe a more family-friendly local government is important for a few reasons. Firstly, we will have richer policy outcomes and better decision making if we have a wider range of voices at the table, and that includes parents, lone parents, and carers.
"Secondly, so that we can ensure any councillor who plans to have family or caring responsibilities in their future are able to sustain their role and balance their responsibilities.
"Finally, I think of the next generations of people who will sit in the chamber, and I believe it is important that we leave it in a better position, so that they can have a sustainable work/family balance in their role," she added.
The toolkit points to the crucial part stakeholders have to play in the advancement of gender balance, diversity and inclusion in local government, and offers recommendations geared towards assisting both officials and councillors in making the role of a local authority member more manageable and sustainable.
"As with all reports, documents and toolkits, the challenge will be in the implementation," Cllr McManus continued. "But there are many reasons to be hopeful in that regard, as there is widespread support for this change, and I see a chance for Wicklow to take a leading role in being mindfully family-friendly in the way we run our Council business"
Her colleague, Bray Councillor Dermot 'Daisy' O'Brien, also attended the launch and spoke about how the toolkit represents a transformative piece of work.
"I think of a quote from Audre Lorde which states that 'The master's tools will never dismantle the master's house', which for me is a reminder that we can not continue a business as usual approach with a few tweaks here and there if we want to create an inclusive and family-friendly County Council.
"We also cannot leave it to chance and hope things will improve but take no responsibility for doing what's right. We need to undertake some transformational work which recognises the enablers and obstacles to participation for those cohorts who are not represented. Change doesn't happen just because we want it to, it happens because we pursue it together."
The 'Toolkit for Local Authorities on Supporting Family-Friendly Local Government' can be found at: nwci.ie