Wicklow bakery and family-run local store honoured at national retail awards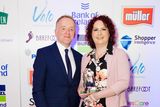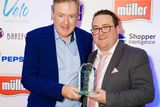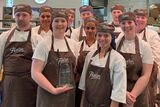 There were two winners from Wicklow at this year's ShelfLife Grocery Management Awards 2023, which took place at Dun Laoghaire's Royal Marine Hotel, on Thursday, May 18.
With 350 guests in attendance, some 21 awards were presented – with one going to Pettitt's SuperValu in Bray, and a second to the Nearby store in Tinahely – honouring the best in the many departments that make up local convenience stores and supermarkets.
Led by MC Shay Byrne, of RTE Radio One's Rising Time, the prestigious, independently judged awards ceremony is supported by platinum sponsor Bank of Ireland and carried out in association with Excel Recruitment. The theme of this year's ceremony was 'Helping Hands, Build Great Stores', chosen to reflect the importance of superb teamwork, inspired by an encouraging and motivational manager, in driving excellent in-store results.
Sinéad Dodd, who leads the team at Pettitt's SuperValu bakery, won the award for In-store Bakery Manager of the Year, with management at Pettitt's congratulating her for her efforts.
"A massive congratulations to our very own Pettitt's SuperValu Bray Bakery Manager Sinéad on taking home the coveted and thoroughly deserved title of In-Store Bakery Manager of the year at [last night's] ShelfLife National Grocery Management Awards.
"Sinéad and her team have been instrumental in the growth of our bakery in Bray in such a short period of time. Her passion for producing the highest quality of breads, cakes and other treats, along with her amazing customer service skills and the relationships she has built with our customers is second to none, and this just proves it. Congratulations again to Sinéad and all her team! We're looking forward to even more amazing bakes and well deserved awards."
Meanwhile, the C-Store Manager of the Year (Small) Award was presented to Ben Chambers, for the family-run Nearby store in Tinahely.
Commenting on the standard of 2023 entrants, John McDonald, ShelfLife publisher, said: "The quality of the participants in this year's ShelfLife Grocery Management Awards programme is a true reflection of the calibre that delivers some of the best convenience stores and supermarkets in the world to Irish consumers. Irish retail grocery managers are exceptional and would measure up to any global standard."