Tidy Towns reflect on productive year and make plans for the Arcade and the Vevay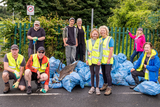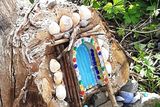 Bray Tidy Towns has enjoyed a busy and productive year, despite the restrictions around it and all other organisations.
They held their AGM recently via Zoom and made a report on the year's activities.
Last year's AGM took place in October and things began to slow down a little after that. The days were getting shorter and like nature, the committee and volunteers do a little hibernating.
However, plans were made for the following spring, letters written, and general correspondence caught up with.
During autumn and early winter of 2019, many members attended the sustainable gardening workshop given by Aoife Munn in Killruddery.
This was part funded by Bray Tidy Towns for interested members of the community.
'We all learnt a lot from this class and I would like to take this opportunity to thank Aoife for a great workshop,' said a spokesperson for Bray Tidy Towns.
In November of last year, they made a presentation to Bray Municipal District, bringing them up to date with what the organisation was doing and what they hoped to do.
At Christmas they lit up the bandstand with fairy lights, perched a wreath (donated by Fleurtique) on the Town Hall door, and gave the big tree at the Town Hall a bit of a facelift.
In January they met with Nypro and put plans in place to work with them throughout 2020 on projects in the Little Bray and Dargle area.
10 awards were presented to groups in Bray at an award ceremony for the 2019 Wicklow County Council Special Awards section. Bray Tidy Towns were delighted that five of these were directly involved with BTT - The Tidy Main Street Award, Business Award for Catalyst Coffee (nominated by BTT), Local Champion Award for Bob Galvin for his work with Coastcare, Local Champion Award for Paul O'Carroll for his work at Fassaroe, and Youth Champion Award for Molly Mercier for her work as a climate activist. 'We would also like to say congratulations to Patricia and the team in Sugarloaf Crescent for their special estate award,' said the spokesperson.
February saw them rushing around getting hedges trimmed all over the town before the beginning of March and nesting season. Hedges were trimmed at Briarwood, Castle Street, and Galtrim Road.
BTT were in discussion with the Dargle Area Residents Association about a sign for the People's park and other projects.
At this time BTT agreed to help in any way they could with the Autism Friendly Town initiative.
It had been decided that one of our main projects for 2020 would be the Arcade off the Main Street in Bray and a big clean up was carried out at the beginning of March when old signs and rotten shutters were removed. There was also general tidy up with the prospect of doing further work later in the Spring.
A couple of days later Covid struck! Lockdown was announced and plans had to be drastically changed.
Nypro was put on hold and is still to be rescheduled. The Arcade was also postponed as were a number of the usual spring jobs.
However, despite Covid (or maybe because of Covid) so much work was done in those three months.
'I would like to extend a very special thank you to all the volunteers who went out individually at this time and worked at litter picking, planting, finding homes for fairies, making front doors for fairies, painting over graffiti, and removing cable ties from lampposts and looking after planters,' said the spokesperson.
'All over Bray individuals were working away, on their own, to make Bray an even better place to live.'
As soon as restrictions were loosened a little work began in earnest again, all within Covid guidelines.
The Crescent near Springfield cemetery was cut back, weeded, painted, and planted by socially distanced, small groups.The Median outside Springfield cemetery was cut back, weeded, dug and planted by socially distanced, small groups. Albert Walk was weeded and cleaned.
The Library area was weeded and bulbs were planted. A large litter pick went ahead in Ballywaltrim Playing Fields with the help of Ardmore Rovers Football Club and local residents.
St Teresa's Boxing Club and other community groups litter picked along Schools Road and Dargle area.
Benches were painted, and a traffic box near Ravenswell was designed and painted.
The Vevay Road planters were brought to life, and the graffiti team did tierless work.
Paint was given to Black Lives Matter Group for their mural and for painting over hate graffiti.
More fairy doors arrived/were made and distributed throughout the town by Sharon Fairy Estates.
Biodiversity signs were erected in areas all over Bray.
The trees along the Seafront and in estates in the area were lovingly maintained (and in some cases brought back to life) by Bob Galvin who watered and fed them and had them looking a lot healthier by the end of the summer.
Paul O'Carroll carried out ongoing maintenance and planting at the 1916 memorial in People's Park.
On the advice of a local botanist, Tom Curtis, it was decided that a huge weeding of valerian would take place on the beach near the harbour wall. Every week for five weeks a large team (again socially distanced and masked) of volunteers from BTT and the local swimmers dug out this beautiful but invasive weed from this area.
This was done in order for the other native seaside and beach plants to thrive. BTT commissioned a sign to be designed and erected on the harbour wall pointing out some of the native species and their uses.
As more people were working at home during Covid, more people began to notice and take interest in their locality. BTT were contacted by various estates in the town who wanted to engage with their community and work for their immediate environment. BTT helped these estates by giving them paint, plants and bags and by loaning litter pickers and other tools. 'In particular well done to Killarney Heights and Clover Hill,' said the spokesperson. 'Clover Hill are a brilliant example of what can happen when a community gets together to improve their area and have great fun while doing so.'
Thousands of bulbs have been planted this autumn, all over the town - with blooms to look forward to next Spring.
BTT have been working with at least six Gaisce students this year. Most of these are going out individually (with guardian) or in pairs and have been doing a multitude of different jobs - weeding planters, litter picking etc.
Bray Dart Station has been given another good weed and mulch has been laid on all the beds.
Eventually they got back to the Arcade off Bray Main Street. A new coffee shop owner and his friends expressed an interest in doing murals in the arcade. The first one has been completed and others are in the pipeline - hopefully this will be the start of the rejuvenation of this lovely little area. BTT are sponsoring the murals.
'The committee would also like to extend our congratulations to Bray Muncipal District who have done a fine job during this Covid-19 crisis. We would also like to say thank you for funds provided by Bray Municipal District and Wicklow County Council to Bray Tidy Towns. These are much appreciated and enables us to continue our work throughout the town without having to worry too much about funding.'
Filming for the RTE programme Nationwide took place at the beginning of November. They are doing a piece about how Tidy Towns got on during lock-down and it will be aired after Christmas.
Now that winter is upon the group once again, they are making plans. Already plans are in the pipeline for the Arcade and the Vevay, and suggestions are very welcome from committee members and any member of the public.