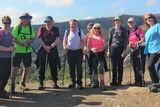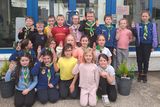 Felix M. Larkin's Talk recently (8th May) to our Kilmacanogue History Society certainly did not disappoint with his well-illustrated talk on the Dublin Opinion magazine as he demonstrated his amazing knowledge on the subject and also during the lively question time after.
For a satirical magazine that was launched during, of all times the Civil War, it was remarkably successful. Felix kept everyone's attention as he glided through more than 40 years of our political history and he demonstrated how at times, it's cartoons and articles had influenced political opinion indirectly, by highlighting issues that grabbed the public's attention.
All in all, it was a pleasant night to round off a very successful season of Talks. Thank you to all the Speakers and members for supporting the Society throughout the 2022-2023 season of lectures.
First Holy Communion
One of the most special days in Kilmacanogue each year is First Holy Communion day. Thankfully the sun shone on 27 children from 2nd Class of Kilmacanogue National School who celebrated their first Holy Communion and it was fantastic they were also joined by their 3 classmates on the day, Danlo Malamura, Merryn Kelly and Aadya Dobhal. The celebrant was Fr Hyacinth and a lot of work was done by their class teacher Chris O'Farrell and the acting principal, Ann Marie Bourke to add to the special day.
Congratulations to Eric Bunce Seda, Ebony Carr, Kaylah Collier, Rocco Connolly, Samual Corbett, Saoirse Daire, Rebecca Driver, Matilda Ellis, Mia-Grace Flood Gash, Louisa Kinsella, Nina Kynes, Bran Lynch, Jack Martin, Nathan McCann, Jacob Meaney Price, Aoife Mulligan, Bradley Nangle, Sofia O'Dea, Ailbhe Reynolds, Clodagh Sands, Lauren Treacy, Nikoleta Urechi, Jake Walsh, Sadhbh Whelan, Harry Wolahan and Eamon Wylie.
We hope you and your families had a very special day. Well done to all.
Beavers hard at work
In typical style of the great community spirit that we have in our little village, the 11th Wicklow Kilmacanogue Beavers recently spent the evening weeding, planting and cleaning up the school grounds in preparation for last Saturdays Holy Communion and the upcoming 6th Class Confirmation ceremonies. All the beavers earned a "Community Badge" for their efforts and well done to each and everyone of them on this great team effort. The leaders would like to thank the management and staff of Kilmacanogue National School for their support on this community initiative.
Sugarloaf Strollers
Our local "Sugarloaf Strollers" held their May walk last Saturday up Maulin with a great turnout on the day. The group were blessed once again on a beautiful day with glorious sunshine, no wind and great views and the hike took just over 3 hours. Afterwards it was back to Plucks for refreshments and recovery. No date has been set yet for the June hike but if you would like to join the group, then please send a WhatsApp to Philip Mulligan on 087-2079844. The members would like to thank Philip for all his efforts in arranging this monthly walk and they hope that one day, they will be able to match Philip's wonderful bright colours on these walks !
Plucks Golf Society
The 3rd outing of the year for Plucks Golf Society took place last Saturday in Wicklow Golf Club. A heavy fog delayed the start of proceedings but when all got going, Ray Nally emerged the winner with 35 points. Graham Rooney was 2nd (34 pts) and Ian Devlin 3rd, also 34 points but pipped by countback. Liam Finnerty won Category 1with 33 points, Gregg Cullen 2nd (30) and Martin Joyce 3rd (30 pts). Category 2 was won by Eddie Byrne 34 points, Robbie Creavin 2nd (33) and Kevin Molloy 3rd (33). Gerry Blackbryne won Category 3 (28 pts), 2nd was Brian Morgan (25) and 3rd Peter McKeown Jnr (22). Robert Moore won the Front Nine with 18 points and Colm Griffiths took the Back Nine Prize (17). Gerry Blackbyrne also won Nearest the Pin and Graham Rooney hit the longest drive.
The next outing is on in Tullfarris GC on Saturday 10th June. A big thank you once again to Caroline & Shane McNamara for sponsoring the players "Goody Bags".
The Society Matchplay is now down to the Quarter final stage. It is brother against brother as Brendan Finnerty faces kid brother Liam, Graham Rooney v Greg Cullen, Graham Tighe v Louis Nally and Tom Byrne v Kevin Molloy. All ties to be played by the next outing.
Soccer action
More Soccer action took place over the weekend. The U10s travelled to Wicklow on Saturday and put in a brave performance before losing 6-1. The coaches had feared the worst as this team had beaten the Glens 9-0 a few weeks ago in Ryders Field but they are improving each week which is great to see. James Lawless got the glens goal with Oisin Reynolds the player of the match and a great effort by Paddy Levins, Honor Scott and Harry Brown.
The U14s travelled to Ashford on Saturday with the bare 11 as some players had family communions. They put in a brave display in a 7-3 defeat with the goals coming from James Ward, Jude Leahy and Riley Ivory.
The Men's Senior team were away to last years winners Avonmore in the Wicklow Cup Quarter Final. The team have struggled of late with injuries and two key players emigrating which has taken its toll and the lads lost 4-1. Delahunty scored the goal with Ryan Nolan outstanding on the day. The team must now try bounce back in the semi final of the Jim McLaughlin Cup next Wednesday.
The ladies team faced Rush Athletic last week and won 6-3. Meadhbh Deeney hit 4 goals with Sarah Miley and Caoimhe Boland making up the total in a good team display.
GAA news
The Senior team were back in league action on Sunday morning as they travelled to Kiltegan on Sunday morning and suffered a 3-18 to 1-08 defeat. Kilmacanogue were missing a few on the day but battled to the end and the younger players are gaining more experience each match.
Diary Notes
A reminder, if you want an item or a photograph of local interest to appear in the Kilmacanogue Diary, please email colm.mulliganmull@gmail.com by midday on Sunday or 5pm Thursday if on a Bank Holiday weekend. Our notes are submitted first thing Monday morning and if you have any celebration or event you would like featured, please send it on to us.