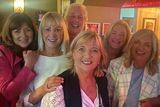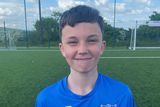 Felix M. Larkin's talk to our Kilmacanogue History Society certainly did not disappoint with his well-illustrated talk on the Dublin Opinion magazine as he demonstrated his amazing knowledge on the subject and also during the lively question time after.
For a satirical magazine that was launched during, of all times the Civil War, it was remarkably successful. Felix kept everyone's attention as he glided through more than 40 years of our political history and he demonstrated how at times, it's cartoons and articles had influenced political opinion indirectly, by highlighting issues that grabbed the public's attention.
All in all, it was a pleasant night to round off a very successful season of Talks. Thank you to all the Speakers and members for supporting the Society throughout the 2022-2023 season of lectures and see you all in the Autumn.
Plucks closed for food
Last Sunday was a very sad day for the staff, Caroline and Shane McNamara and the loyal patrons of Plucks as the kitchen served its final meal with a very uncertain future ahead. While Shane and Caroline's lease with the Macari family, who own Plucks, is up at the end of August, chefs and staff have to find new jobs for their futures and families which is understandable and sadly, it has become impossible to continue serving the high standards of food the business has become well known for.
Drink will continue to be served in the bar 7 days a week and the lounge will be open Wednesday to Sundays with live sport on the numerous TV's and live music on a Saturday night so hopefully everyone will continue to support the McNamara's who have done so much to enhance and support our community since November 2018 because this has been difficult for them also.
Some communication has been made by the Macari family representatives with our "Tidy Up Our Village Group" and it is hoped to reveal the future plans for the premises in the next few weeks. Rumours are circulating of various proposals and plans and frustration is growing among the community so hopefully, this will be announced, and people can decide how they feel about those plans. At present, it is all speculation.
Soccer action
More Soccer action took place over the weekend.
The U9s travelled to Arklow with Glens Teams 1 and 2 showing fantastic skills and improving every week much to the delight of their coaches.
The U10s played Rathnew and put in a great performance in a 3-4 defeat. Nicholas Mannerings, Paddy Levins and Ollie Luckie scored the goals but the star player of the match was the birthday boy Ben Dempsey who turned 10, happy birthday Ben.
The U11s were away to Rathnew and lost 3-0. This was a good performance and closer than the score might suggest as the Glens played very well and were a little unlucky.
The U12s were at home to Ashford Rovers in a thriller on Saturday which they won 3-1. Nathan Hall finished well to open proceedings Sean Levins played in goal in the first half but emerged outfield after the break to score and Harry Martin sealed the win following great work by Freddie Martin and Oisin Devlin.
The Men's Senior team are at home tonight (Wed 24th) v St Peters in the Semi Final of the Premier Jim McLaughlin Cup. Kick off is at 7pm and support welcome. The ladies faced Marks Celtic on Monday night which was to late for these notes but report next week.
Finally, well done to Glens U13s player Samuel Moraghan who not only played but Captained his County Wicklow Team in the All Ireland Trophy Final v Longford held in Kilkenny on Sunday. The result did not go Wicklow's way in a 4-2 defeat but what an honour for the player, his family and the club who are very proud of him.
GAA news
The Senior team were in league action on Sunday morning at home to near neighbours An Tochar and put up a brave display before losing 0-08 to 3-13.
The Junior team did have success against An Tochar however on Thursday as they won 1-12 to 2-06 and the Clan Na Gael Ladies also faced An Tochar on Tuesday in a friendly and won 4-11 to 4-09.
Diary notes
A reminder, if you want an item or a photograph of local interest to appear in the Kilmacanogue Diary, please email colm.mulliganmull@gmail.com by midday on Sunday or 5pm Thursday if on a Bank Holiday weekend. Iif you have any celebration or event you would like featured, please send it on to us.