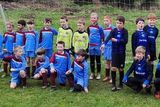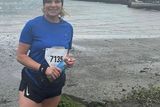 Last Sunday, our very own Helen Coleman ran the "Wicklow Gaol Half Marathon. Helen participated in the race to raise funds in memory of her great friend "Patrick "Whackers" Byrne for the Irish Motor Neurone Disease Association and to date, over €4,600 had been raised with online and cash donations which is just fantastic. Helen completed the 21.1Km course I 1 hour 55 minutes which was a fantastic achievement - no better woman than our Helen when it comes to determination. If you still want to donate to our Helen's appeal, the link is https://gofund.me/1494c8dc . Go "Team Helen".
History lecture
The members of our Kilmacanogue History Society are eagerly looking forward to the next talk which is titled " The Kennedy's of Newtownmountkennedy" and it will take place in our Kilmacanogue Parish Hall on Monday 3rd April at 8pm.
The Society are delighted to have Ms. Therese Hicks M.A, Author of a recent book on "These Kennedys" as the Speaker on the subject of "The Kennedys of Newtownmountkennedy. Therese herself has lived in Newtownmountkennedy for the past 20 years and has been engaged in local history research since 2014, after she retired from her work as a psychotherapist with the HSE.
She will be able to answer questions like how Newtownmountkennedy got its unwieldy name and how these Kennedys came to own 13,000 acres of land in the area and, where they came from and what happened to their descendants. All can look forward to a talk with lots of local interest, please come along on the night and it is open to non-members who can pay the small fee at the door.
Sugarloaf Strollers
The next walk for our Sugarloaf Strollers Group will be on Saturday 15th April with venue to be decided. If you are interested in joining this group, then please send a WhatsApp or text message to Philip Mulligan on 087-2079844.
GAA news
The Senior Mens Kilmacanogue GAA made it 2 from 2 with a great league win last Friday night. The lads travelled to Hollywood on a night not really suited for Gaelic football with very strong winds but dug deep to record a great 2-13 to 1-06 victory. They led by two points at the break in a tight first half but put in a brilliant performance win by 10 points. The goals were scored by Sam O'Callaghan and Michael Whelan in a great all round team display. Next up is Round 3 when the lads face Avondale in Kilmacanogue, Throw in 11-30.
The Ladies also returned to league action and faced Bray Emmets 2nds in Kilgarron on Sunday evening. They got their campaign off to a great start with a 2-07 to 1-04 victory. They led by a point at half time but put in a very strong 2nd half. Hannah Doyle, Paris Flynn and Tara Costello were best along with goalkeeper Katie Walsh. Next up is a visit to Eire Og this Sunday at 6pm.
Soccer action
The Glens ladies kicked off life in Division One of the Eastern Woman's Football League on Sunday evening as they travelled to Whitehall Stadium to play Home Farm. This was always going to be a tough fixture as the Glens were newly promoted and Home Farm had come down from Premier One last year but the Glens put in a fantastic performance to record a 4-0 win. Aoife Murtgagh, Emma Prendergast and Alison O' Toole were the top players in a great start for the team. This Sunday afternoon, the Glens face Terenure on the Quill Road in what will be a very tough game.
In junior football, the U8s played in very wet conditions against Arklow and it proved a tough test for this new team but welcome to weekend football in Ireland squad. The 9s also played in tough conditions on Sunday morning. This is also non competitive but a great effort was made by all the players to te delight of the coaches.
The U10s had a very tough game at home to a strong Shillelagh team on Saturday morning and suffered a brave 4-9 defeat. The Glens battled hard and it was tighter than the result suggests. Paddy Levin's scored his 2nd hattrick of the season with Harry Brown getting the other goal. Frankie Fletcher, Ben Dempsey and Ollie Luckie also went close with great efforts. Keep it going 10's.
The U11s faced St Anthony's on Saturday and had a great 7-2 win against a gallant St Anthony's side. It was 2-2 at the break but the Glens dominated the 2nd half. Harvey Ward was still pulled off some vital Saves for the Glens with seven different scorers in Logan Farrell, Con Dillon, Finn Kynes, Darren Redmond, Bobby Dunne, Nathan Mulligan and Felices Farrelly.
The U12s travelled to Wicklow Rovers on Saturday and continue to find life in this Premier Division very tough and suffered a heavy defeat. The club's secretary Anthony McGrath has worked tirelessly to get a regrade for this team and thankfully, that will happen from this week. Despite the heavy defeat, the team gave everything on the day and Eoin Dunne and Grace Drapper put in a fantastic effort to keep Rovers at bay.
Diary notes
A reminder, if you want an item or a photograph of local interest to appear in the Kilmacanogue Diary, please email colm.mulliganmull@gmail.com by midday on Sunday. Our notes are submitted first thing Monday morning. If you have any celebration or event you would like featured, please send it on to us.