Five friends distilling the spirit of St Kevin
Reporter David Medcalf enjoyed a sober conversation with Gary McLoughlin, one of a bunch of friends who have turned their love of spirits into an exciting and expanding business called Glendalough Distillery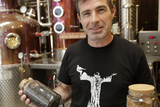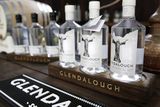 Gary McLoughlin knows a great deal about drink. This is not to suggest or imply or presume that he is any way an alcoholic. His encounter with the reporter from the 'People' takes place at a perfectly sober hour on a weekday morning. Yet it is nevertheless abundantly clear that Gary is very well versed in drink indeed.
We meet in one of Ireland's newest examples of an ancient craft, the headquarters of Glendalough Distillery, billed as Ireland's craft first distillery. It is located down the hill from Glendalough itself in the unpretentious setting of a Newtownmountkennedy business park.
'You have to start somewhere,' muses Gary, against a background of the pipes and vats which make the manufacture of whiskey and gin possible. 'We have been here since 2013 and it is a great place.' Nevertheless, he hints that a move to a quainter, more tourist friendly site is on the cards.
The production of spirits in this country has long been the preserve of major companies, with the well-known brands owned by vast multi-national corporations. Gary used to see first-hand how these industrial giants operated. As a marketing executive working in Dublin, his portfolio included Heineken and Harp lagers, as well as Murphy's stout. During his 15-year career in advertising he also helped to make Jameson the toast of whiskey drinkers all around the world.
Whiskey was very much the topic of conversation he had a few years ago with his buddies Barry Gallagher and Brian Fagan, who earned their living as drinks analysts, studying global trends in drink sales. They confided in Gary their conviction that there was room in the market for their own small distillery, though they were realistic enough to perceive that they did not have a clue how to set about it. He persuaded his friends that that if their hunch was correct, then he was just the man to market their wares.
'Barry and Brian had the idea and they came to me about the branding. I picked up the phone to call Kevin Keenan, creative director,' recalls Gary.
Within a few months, four became five as Barry's cousin Donal O'Gallachoir was added to the growing conspiracy. The Bray man was in the United States at the time selling whiskey, so he was a logical person to turn to. Five years ago, the quintet all had good careers in well established businesses but now they are committed to making Glendalough known in pubs and cocktail bars around the globe.
They looked at a whiskey market dominated by the likes of Jameson, Midleton, Bushmills and Cooley, all controlled by multi-national corporations. The conspirators, all men in their thirties, noted that distilling used to be scattered across Ireland in hundreds of locations rather than concentrated in a handful of places. It was time, they reckoned, to recapture some of the 19th-century approach and set up the first Irish craft distillery of the 21st century.
They hit on Glendalough and St Kevin as their inspiration.
'You can tell a great story with a spirit,' says Gary. 'Growing up, we were all brought for walks to Glendalough. It is an amazing and special place, a place we loved.' Heaven alone knows what the hermit Kevin would make of being enrolled in an alcoholic enterprise but McLoughlin insists that the saint provides plenty of inspiration. 'St Kevin is our favourite Irish monk and he is prominent on all our labels.' His namesake Kevin Keenan and Gary came up with the logo.
The image shows the holy man standing with arms extended and hands raised, a bird settled on his right palm. It illustrates the legend which tells how the saint chose to stay stock still for months on end rather than disturb the bird which had chosen to nest in his hand. The tale is certainly appropriate for production of whiskey, which takes a long, long time to mature. The five lads were just a tad more impatient than their holy inspiration as they set about their revolutionary activity.
So they have started out by selling whiskey distilled by someone else (though matured by Glendalough) and with producing drinks which take less time to make. They are the front-runners in an emerging movement which has already spawned a dozen new, small-scale distilleries around Ireland, with more on the way. Gary insists that it was the Irish who showed the Scots how to make 'uisce beatha' and now it is time for the Scots to return the compliment.
Production in Scotland comes from 100 or so plants and he believes there is no reason why this more scattered approach should not be mirrored on this side of the water. Scotch is huge business, though the Irish equivalent shows signs of catching up.
'Jameson have opened the way for Irish whiskey to be great again - they are brilliant,' comments Gary McLoughlin. He likes the way that Jameson not only makes and sells its products but also welcomes tourists who come to see the distillery in Dublin. The production line in Newtownmountkennedy is a less grand affair.
The day that the still arrived from the Black Forest in Germany at the business park is remembered with laughter by those involved.
'It was pretty much flat pack - like a big Ikea project.'
The assembled contraption now that they have put it successfully together is a thing of engineering beauty, with its assemblage of copper or stainless steel vats and pipes. It is now operated by Ciarán 'Rowdy' Rooney, who commutes out from Dublin city centre to tend to the process of turning Irish ingredients into Irish spirits. But the first batches were concocted by the five pioneers over weekends and during holidays. They immediately found takers for their liquor - not just for the whiskey they have matured in oaken barrels but also for poitín made from barley and sugar beet and for gin.
'I am full time since 2015,' says Gary on his move from advertising other people's products to selling his own wares. 'It was as big decision but I didn't have to think twice about it - Glendalough was flying.' The other four have followed suit at various stages and Glendalough is still 'flying'.
Two years ago the graphic of St Kevin with his arms outstretched was exhibited on the shelves behind the bars of eight countries. Now the total runs to 36 countries, with 16 people on the pay roll. Lithuania and Finland were recently added to the ever expanding list, with India due to come on stream shortly, though the US, Canada, UK, France and Germany are the major export markets.
The key destination is the United States, where Donal O'Gallachoir is based full time, ensuring that discerning drinkers in Boston, Chicago, New York and Washington DC are catered for by a team of 'brand ambassadors'.
Word is also spreading closer to home.
'This business is all about distribution,' explains McLoughlin, delighted to report that drink distilled in Co. Wicklow is beginning to find its way into SuperValu supermarkets and O'Brien's off-licences. Persuading retailing customers to sign up has been made easier by successes at events such as the San Francisco World Sprits competition. In 2015, a Glendalough entry was rated 'Best Irish Whiskey' by the discerning adjudicators in San Fran: 'I nearly fell off the chair when I got the news.'
With such honours to boast about, Rowdy Rooney is hard pushed to keep up with the demand and a second distiller will soon be added to the Glendalough Distillery payroll.
Glendalough gin is winning plenty of admirers, as it is fortified with some most unusual ingredients. Glenealy woman Geraldine Kavanagh has been recruited to add some Glendalough magic in the form of elderflowers, clover and wild raspberries to the mix.
'We are the first to do seasonal gin,' declares Gary, who has seen the mixologists in the cocktail bars of London fall in love with the 'Wild Botanical Gin'. Whiskey takes long years to bring to market, gaining flavour in bonded warehouses as it is stored in casks that once held bourbon or sherry, while gin can be cooked up in less than two months.
Glendalough Distillery has attracted admirers, including former Irish rugby captain Brian O'Driscoll, who can look forward to an expanding choice of offerings coming their way. The current range covers the whiskey (aged seven or 13 years), the poitín (selection embraces a sherry cask spirit and the dynamite 60% alcohol 'Mountain Strength') and the gin ('Wild Botanical' or pick any one of the four seasons).
The marketing spiel traces the history of distilling back to around the time of St Kevin when sixth-century Irish monasteries were recorded experimenting with rudimentary pot stills when not attending to their prayers. Gary and his comrades reckon they are tapping into the soul of Ireland's drinks tradition as they bid to recapture the days when the island boasted more than 200 licensed distilleries.
Cheers!