Dramatic Greystones rescue operation sees woman airlifted to hospital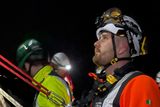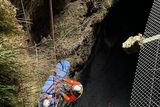 While the majority of the nation enjoyed the St Patrick's weekend celebrations the members of the Greystones/Wicklow Coast Guard Unit were on call, ready and waiting to step into the fray when required. And, over the course of three days, the crew found themselves responding to three emergencies in Bray and Greystones, three situations which required their diligence and dedication.
On Thursday, March 16 the team were notified that a female at Bray Harbour was threatening to enter the water. A quick response saw a boat launched in the area in the event of the woman entering the water. Bray Garda were also on the scene and, along with the Coast Guard, helped the casualty to safety and waited with her until she could be tended to by paramedics.
Later that same day, the team were once more called into action after being alerted to an accident in which a female had fallen and possibly broken her ankle on Greystones North Beach. Once the crew arrived on scene it was decided, due to tidal and weather conditions, that it was unsafe to remove the patient along the beach.
Cliff rescue equipment was employed and an advanced paramedic along with the team doctor were lowered down to assess the casualty and administer pain relief. The patient was then packaged and taken up the cliff and transported to the ambulance. Fresh from their exertions, the team were once called into action on Saturday, March 18 as a call came in to assist a women with a lower leg injury on Bray Head.
Paramedics and Wicklow Mountain Rescue teams were already on scene but, due to the terrain and conditions underfoot, it was deemed necessary to airlift the casualty from the headland. The multi agency team worked together and moved the patient to safe area for winching and onward transport to hospital by Rescue 116.
Barry Guilfoyle is the Deputy Office in Charge at the Greystones/Wicklow Coast Guard Unit, and he paid tribute to all those involved with the rescue operations during the St Patrick's Day weekend.
"The first two call outs occurred within an hour of one another but we were lucky in that the second call out came after work hours so it made it a bit easier because all our crew are volunteers and have day jobs," he said. "We have 32 members in total and it can be busy. However, this year has been quiet everywhere and there's no real explanation for it, last year we had 68 calls out in total, we've only had eight so far this year."
And Barry revealed how not even a potential Grand Slam could keep the crew from fulfilling their duty.
"We have excellent volunteers here, they often have to take calls when they're with their family, the call-out on Saturday happened during the rugby match but it's standard procedure, once the beeper goes off you answer it and go into action."