Bray volunteer and Coastcare founder to represent Aontú in Wicklow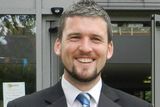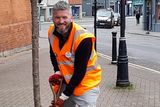 The founder of Bray's Coastcare, Séamus Connor, who has been organising monthly clean-ups of the town's coast, as well as Bray Head and other areas in the vicinity for the last 16 years, has been selected by Aontú to represent the party in County Wicklow.
Mr Connor, a secondary school teacher, was born in Bray and was a student at Woodbook College. Passionate about his town, its people and its environment, he is a busy volunteer in the community and has also been involved in, or fundraised for, Bray Carers' Association, Bray Charities Sea Swim, Holy Redeemer Youth Centre, AWARE mental health charity and Epilepsy Ireland.
Commenting on his appointment, Mr Connor said: "I was motivated to get involved in politics back in 2019 and joined Aontú because I identify with the party's core values and believe in a society that takes care of ordinary citizens, the vulnerable and the marginalised.
"I contested the 2020 General Election for the party and secured 1,351 votes. I am delighted and I feel honoured to have been nominated and selected to be the Aontú Representative in County Wicklow once again. Aontú's positive outlook and vision and the sincerity and integrity of Peadar Tóibín TD, Aontú's leader, convinced me to put my name forward once more to represent and campaign for Aontú in Wicklow."
"Another key reason for continuing to be involved in politics is that I see so much potential to make a real and positive difference to individuals, families, and small-medium businesses in Bray and across our county," he added, "and I have lots of ideas that can help to bring about positive change in Bray and beyond.
"The key issues I will be focusing on as Aontú Representative are the cost-of-living crisis, the crisis in healthcare and mental health, the rise in crime and anti-social behaviour, the housing and rental disaster and the environment and tourism potential of Bray and Wicklow."
Mr Connor has worked tirelessly to enhance the beautiful coastal areas of Bray for both the locals and the many tourists that come to the town, and one of his main objectives for residents and tourists is to get the Cliff Walk back open.
"The fact that the Cliff Walk has been closed off to the public for over two years now is unacceptable. I am of course aware that the walk must be safe before walkers can access it, but for the work to reopen this wonderful amenity to be taking years is crazy.
"This amenity is cherished by so many locals and tourists alike, and I know that walking it improves people's mental health immeasurably. This is why I am calling for answers from our elected representatives and our town engineers as to why the reopening of the Cliff Walk is taking so long, and I am urging them to work to reopen it as a matter of urgency, especially as we enter the busy summer months."
Mr Connor also wishes to focus on the issue of dog fouling and littering, and has been advocating for wardens for some time.
"I was recently successful in bringing a proposal to Bray Municipal District (Council) asking the elected Councillors and Wicklow County Council to reinstate a Litter warden/Dog Warden for the town of Bray.
"Illegal littering of our towns and villages across Wicklow is totally unacceptable and fines for those who litter should be handed out, especially those caught fly tipping in our natural beauty spots of the Wicklow Uplands and elsewhere," he said.
Mr Connor also believes Bray should have a full-time fire service and this is something he is committed to working on as the Aontú Rep for Wicklow.