Bray Central to launch new monthly markets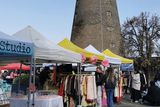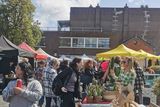 This April will see the launch of brand-new monthly markets in Bray Central. Beginning from Saturday, April 1, this initiative is being run in collaboration with 'We Love Markets' and will feature up to 20 eclectic stalls showcasing a mixture of food, arts and homemade crafts, furniture, music, vintage fashion, artisan goods and plenty of hidden gems supporting local vendors.
"This monthly market promises to bring a brand-new attraction to the area and connect with residents, building upon the town's already bustling community, as well as support local organisations in Co Wicklow," said Emma Brereton, Market Operator Manager.
"With over 15 years' experience as a market operator, we have developed and understand the needs within our market culture. Bray town and surrounds as a community has an amazing collection of high-quality local produce, independent start-ups, local enterprises, businesses, and designers, altogether make up our market community.
"Creating the right location, space for sustainability and growth, is imperative within the circular economy framework. The markets are the town's heartbeat with such a positive attraction for local communities and tourism."
The first market will launch on Saturday, April 1 from 11 a.m. to 5 p.m. and is set to continue once a month. Entry to the market will be free.