Wicklow man returns home six months after his paralysis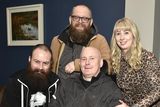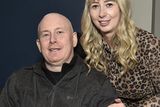 Eoin Mac Raghnaill
Wicklow People
Popular local character Jaroslaw 'Jarek' Kula received a huge welcome home earlier this month when he returned to Arklow for the first time since his paralysis last September.
Family, friends and co-workers gathered at the Arklow Bay Hotel to share a laugh and catch up with the former Pro Hand Car Wash employee, who is continuing his lengthy rehabilitation at the National Rehabilitation Hospital (NRH) in Dun Laoghaire.
Originally from Glogow in southern Poland, Jarek had been living with his sister Dorota and her husband Damian in Arklow for over five years before his sudden paralysis last year. He has made huge strides in his rehabilitation over the past couple of months and even recovered motion in his right arm.
Delighted by the turnout at the Arklow Bay Hotel, Jarek's sister Dorota said that it was great to see her big-hearted brother smiling and joking with his friends again.
"There was a fantastic turnout by the Arklow community and Jarek had a really great time," Dorota said. "Quite a lot of his friends came and people he used to work with. Teresa Earls was there with her husband and quite a few neighbours.
"Jarek was very sentimental on the day and so happy to see everyone after so long. He enjoyed a great dinner at the Arklow Bay before everybody arrived and even had a couple of drinks later – because he's allowed to now!
"His rehabilitation is still going well. Originally they thought he might be discharged on March 15, but it wasn't a firm date. They initially told us that his rehabilitation at the centre could take as long as six months, so it could be another month before he is discharged."
In the aftermath of Jarek's paralysis Dorota set up a GoFundMe page to cover her brother's medical costs and any adaptations they would need to make to their home to accommodate his needs. In total, they have raised over €8,000 so far.
As Dorota explained, there has been a huge change of outlook on Jarek's behalf over the past few weeks. After considering his options at great length, Jarek has decided that he would like to retain as much independence as possible when he's released from the National Rehabilitation Hospital, and is now seeking his own social housing in Arklow.
"There has been a bit of a change of plans," Dorota said. "Jarek decided that he would like to have his own independence and is happy to go into a nursing home while he waits for social housing in Arklow. So, we will put all the money we raise towards his rehabilitation and physio costs going forward – which there will be a lot of.
"We were told that when Jarek comes back home to us that his care package couldn't guarantee him that somebody will come every day – because of the shortage of carers. They said that it would be handy if there was always somebody in the house who can be there for him, if the carer can't show up.
"So, we have decided that the best thing to do would be to apply for social housing for him in Arklow. We know that there will be a longer wait time, but it means that I can see him when he doesn't have someone there with him, or when the carer can't be there."
To support Jarek visit his GoFundMe page at www.gofundme.com/f/fragile-mortality