Wicklow Courthouse to host 'souper' calendar of new arts events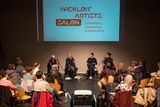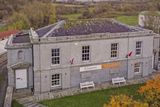 Eoin Mac Raghnaill
Wicklow People
In advance of major upcoming renovations, The Tinahely Courthouse Arts Centre will temporarily reimagine the former courtroom as a community café and loitering space with the launch of an exhibition entitled 'Stone Soup' on Saturday, May 20.
Part of Kunstverein Aughrim's friendly takeover of the Courthouse, the exhibition will run until June 24, 2023 and features work by talented artists Isadora Epstein, Yurika Higashikawa, Jennie Moran and The 1798 Club, which is a collaboration between members of Aughrim Active Retirement Group, photographer Louis Haugh and Kunstverein Aughrim.
Established by Kate Strain in 2022, Kunstverein Aughrim is a curatorial production office located on the ground floor of a town house in Aughrim, that is part of an international network that develops ongoing curatorial collaborations with artists to support the artistic process of creating new work and bring audiences as close to the creative process as possible.
Taking its name from an 18th-century French folk story, Kunstverein Aughrim will launch Stone Soup with a writing workshop by Yurika Higashikawa – from 11 a.m. to 1 p.m. – followed by a brief introduction by curator Kate Strain (at 2 p.m.), a presentation on Softening Corners and Institutional Hospitality by artist Jennie Moran and a live performance entitled 'Spooned!' by artist Isadora Epstein.
Ms Epstein writes and makes performances from her research of art history and mythology. Living and working in Dublin, she has performed at Temple Bar Gallery + Studios, the Royal Hibernian Academy, Sirius Art Centre, Royal Irish Academy, Ormston House, KuVa Exhibition Lab, Helsinki, and TULCA.
Yurika Higashikawa is a multidisciplinary, research-driven artist and writer based between Wicklow and Dublin. Their films, performances and texts map moments of tension between technocratic systems of power and our capacities to act upon or in league with our surroundings.
Jennie Moran is a Dublin-based artist who uses her practice to create opportunities for hospitality. Her work attempts to dismantle places into their basic components and reassemble them so that they might function more poetically.
The 1798 Club is a collaboration that aims to develop an intangible Heritage Collection for Aughrim by creating an inventory of objects, artefacts and ephemera through which the customs and stories of Aughrim are represented, shared and re-told. Aughrim's inaugural exhibition of Intangible Heritage took place as part of Aughrim's first annual Heritage and Arts Weekend, in October 2022.
Epstein's wall works, Higashikawa's words, Moran's table lumps and The 1798 Club's postcards will remain on display for the month-long duration of the exhibition, during which time visitors to the Courthouse are invited to bring picnics and packed lunches from local cafés D'lish and Tinahely Farm Shop and enjoy them on-site.
On Saturday, June 24, the Courthouse will host the Wicklow Artists Salon which will be moving from the Mermaid Arts Centre for the Stone Soup collaboration with Kunstverein Aughrim.
Entitled 'Taking the Initiative', the artist-run event will explore important themes affecting artists and cultural practitioners and features an exciting line-up of artists and cultural practitioners who took the bold step of establishing a new publishing house, a new festival, and two arts centres.
The panel for the salon includes the founder of the Signal Arts Centre, Eleanor Philips, publisher of The Stinging Fly Press, Declan Meade, founding Director of The Gap Arts Festival, Garret Keogh and event facilitator, curator and founding Director of Kunstverein Aughrim, Kate Strain.
Supported by Wicklow County Arts Office, Mermaid Arts Centre, The Tinahely Courthouse and curated by visual artist Joanna Kidney and writer Philip St John, the salon consists of a moderated discussion with invited guest artists, which then opens into conversations with attendees and aims to seed learning, interactions and collaborations among participants.
Speaking in advance of their exciting arts schedule, a spokesperson for The Tinahely Courthouse Arts Centre said: "We look forward to a lively discussion with the invited panel on 'Taking The Initiative'. Which will discuss how they individually started up a publishing house, a new festival, and two arts centres.
"Come and join your fellow artists in a local cafe (food not included) from 12.30 p.m. to 2 p.m. Venue to be confirmed."
Stone in Soup will be on display in The Tinahely Courthouse Arts Centre from Saturday, May 20 to Saturday, June 24 and will be open from Wednesday to Saturday, between 10 a.m. and 4 p.m.
Booking is essential for the free The Wicklow Artist Salon event, which will take place on Saturday, June 24 from 2 p.m. to 4.30 p.m. Visit www.mermaidartscentre.ie.
For those travelling from the Bray area, The Tinahely Courthouse Arts Centre will provide bus transport to Tinahely and back.
For more information contact The Tinahely Courthouse Arts Centre at 0402 38529 or visit www.courthousearts.ie
For more information about Kunstverein Aughrim visit www.kunstverein.ie