Wicklow business owner honours father by raising over €6,000 for Arklow Cancer Support
Click on the photo below to open a gallery of images from the event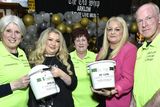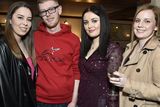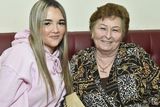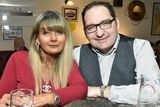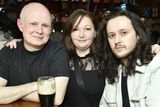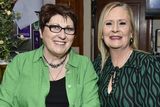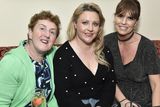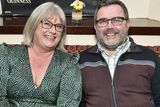 Eoin Mac Raghnaill
Wicklow People
Arklow's famous community spirit was on full show last weekend when hundreds of people turned out to help raise over €6,000 at an Arklow Cancer Support fundraiser organised by local business owner Shannon Evans-Keenan.
The Old Ship Inn was packed to the rafters as Enhanced Beauty co-owner Shannon accepted donations and sold tickets to a bumper raffle, all in support of the vital work done by Arklow Cancer Support in her community.
Shannon lost her father, Steven Evans – a well-liked character who had lived in Arklow for years – to cancer in March last year. Determined to give back to Arklow Cancer Support for the crucial support and comfort they provided after Steven's passing, Shannon organised two fundraising events in honour of her dad.
Beginning with a donation day at her Main Street Salon in early March, Shannon and business partner Colleen Coyne's fundraising efforts culminated last weekend with a magical evening of celebration.
"It was way beyond anything I could ever had imagined, I was only aiming for about €2,000," Shannon joked. "There was a great turnout on the night and we sold lots of raffle tickets. The tickets were selling like hotcakes in the weeks leading up to the night in the Old Ship, and we raised over €2,000 on the night alone. We don't quite have the total we raised yet, but I know for certain that it's over the six grand mark.
"We added so many more prizes to the raffle since we had our fundraising day in the shop. My business partner Colleen's husband is a carpenter and he donated a beautiful console hall table, which people were just going mad to win.
"Then there was a lady who owns an Airbnb in Wexford who saw the article in the Wicklow People about our donation day and reached out to me. She said she was touched by my story and ended up offering a night's stay at her business, complete with champagne and the whole red carpet treatment.
"Honestly, the response from the community has just been unreal. The amount of local businesses that came to us after that initial exposure from the article blew us away.
"I'd like to just say a big thanks to to all the business who donated vouchers and prizes to the raffle. Also to the entertainment on the night – Black Cherry, Decko and Tony Hughes, Sean fox and Bed of Roses, Joe Shelton and Colm Lawlor, Gerry Power and Pat Crowe – ye were all fantastic.
"A big thank you to Sean from the Old Ship for his generosity in providing the venue, and to the staff of the Old Ship whose hard work ensured the smooth running of the night.
"On a final note, I'd just like to say how proud I and everyone involved were to welcome Mary O'Brien and Breda Kelly from Arklow Cancer Support to the night. They're real heroes in my eyes, and the rest of the town obviously think so too."
Overwhelmed by the generosity displayed by Shannon and the Arklow community, Director Of Services at Arklow Cancer Support Mary O'Brien said: "We had  such a marvellous night in the Old Ship – the bands were just amazing. We really can't thank Shannon and Colleen enough for hosting both of the fundraisers.
"They are both fantastic people, who have always been very supportive of us. Last year, on our Pink Day, it was coming up to Halloween and they incorporated the day in with their festive window display fantastically.
"Shannon developed a strong connection with us after her dad's passing and has told us that she's fully committed to supporting what we do. She has even said she's more than happy to make it an annual fundraiser.
"It's amazing people like her, Colleen and all those who contributed that we need on board to keep our funds coming in I tell you, there are plenty of those people here in Arklow!"