Avoca's Wicklow Miners CCÉ to host Wicklow County Fleadh Cheoil for the first time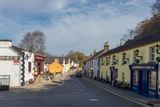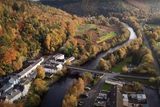 Eoin Mac Raghnaill
Wicklow People
The Avoca Wicklow Miners CCÉ have been chosen to host the prestigious Wicklow County Fleadh Cheoil for the first time, news that will provide a huge boost to traditional Irish culture in the region.
Taking place on Saturday, May 27, the historic festival will see the best musicians, singers and dancers from around the Garden County descend on the picturesque town to compete for a place at the Leinster Fleadh, which will be held in Dublin in July.
With more than 500 Comhaltas Ceoltóirí Éireann (CCÉ) members in Wicklow and over 350 of those under the age of 17, the hugely popular trad festival promises to inspire a new generation of musicians in Avoca and beyond.
Established in 2017 by the supremely talented Lar Harper, James Lambert, Dinny Quigley and current Chairman Mike Nesbitt, this year's festival represents a huge milestone for the fledgling Wicklow Miners, which have been growing their membership steadily since the group's inception.
Praising his fellow Wicklow Miners for their monumental achievement, a beaming Mike Nesbitt said that the festival will have huge implications for the future of traditional music in the region.
"The Fleadh is a major event from a Comhaltas perspective and it's going to be something very exciting for the local community – as well as for ourselves," Mike said. "For any branch that hosts the Fleadh it's a big event, but for a small branch and committee like ours, it's a fairly huge deal.
"We're a relatively new branch, at least in comparison to some of the other branches in Wicklow. There's a total of eight branches across the county and they each take it in turn to host the Fleadh. Some of those well-established branches, like Donard, Aughrim or Wicklow Town would be going from the early 1970s or 1960s.
"It's only now that we're really in a position to host such a big event. We have 60 members at the moment, who are mostly mostly students, who include families like the Lamberts and the Harpers, who would be fairly prominent on the traditional music scene, but also other talented families from around Avoca.
"There's a full committee of us involved here and we've all worked hard to grow Wicklow Miners. Our five fantastic teachers welcome students from around the area every Saturday, between 2 p.m. to 7 p.m., to teach them how to play a variety of instruments by our five fantastic teachers.
"One of things we pride ourselves on is giving back to the Avoca community, whether that be through playing at their various functions or community events. We're more then happy to help support any of the fantastic work done here.
"We're thrilled that we get to bring them this wonderful spectacle this May. In the Avoca Community Hall on April 1, between 2.30 and 5pm, we're having a very informal gathering and music session with musicians, who will invited from all of the branches from Wicklow and the surrounding areas for the launch.
"It's not just for Comhaltas members too, but any local musicians – whether they're intermediates, beginners or more advanced musicians. It's really just to drum up a bit of excitement before the Fleadh, and to give people a chance to see Avoca and have a look around."
Congratulating Mike and the Wicklow Miners CCÉ on the landmark achievement, Secretary of Wicklow Comhaltas Ceoltóirí Éireann, Tracey Maguire said: "It's great to have a new branch hosting it and I can't wait to see how it boosts music in the area. You definitely get more involvement from local schools and children when they see other students playing music – and there are going to be so many talented musicians there, young and old.
"It was the same thing in the The Boathouse CCÉ, which has been going for over 40 years now. It has gone through ebbs and flows over the years but, after hosting it last year, they now have 90 students playing music there at the moment.
"Last year was the first Fleadh after Covid and, while it was a tiny bit smaller than normal, it was only about 20 people less than in 2019 – which was great. We had approximately 300 competitors in 80 different competitions, which may sounds like a lot, but that's an average Fleadh for Wicklow.
"Obviously there are counties like Wexford and Laois that are known traditionally for their music, but the Wicklow CCÉ have definitely come a long way in the last 10 or 11 years. We have eight branches in Wicklow now, in Bray, The Boathouse in Wicklow Town, Wicklow Miners in Avoca, Donard, Blessington, Roundwood, Aughrim and Tinahely.
"It's certainly an inspiring time for all Wicklow Comhaltas members, and indeed for traditional music, dance and song in the county. We'll be hosting the Leinster provincial Fleadh here next year, which will see over 1,000 people from around province compete.
"Between branches like Wicklow Miners blossoming so well and the Leinster Fleadh coming back here for the first time since 2009, all of this adds up to it being a really exciting time for traditional culture in Wicklow."
Wicklow Miners CCÉ will host their Fleadh launch session in the Avoca Community Hall, Kilmagig Lower, Avoca on Saturday, April 1 between 2.30 p.m. to 5 p.m. All are welcome/Bígí linn!
You can contact your local branch secretary for entry forms for the Wicklow Fleadh Cheoil 2023, or email wicklow@comhaltas.net for further information. The closing date for entries is April 1.