Aughrim awarded €10,000 to research improvements to local accessibility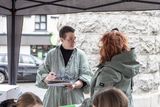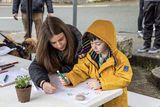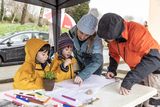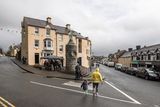 Eoin Mac Raghnaill
Wicklow People
Aughrim town centre regeneration project 'Suppose a Stone' has been granted €10,000 under the Irish Architecture Foundation's Reimagine Hometown Architect initiative, a programme focused on the revitalisation of towns and villages through connecting architects with community organisations
The Suppose a Stone project includes developing a pathway for making 'The Granite City' of Aughrim more accessible for all ages and abilities, and for multiple species. The team includes the not-for-profit contemporary art space Kunstverein Aughrim, Aughrim Tidy Towns, Aughrim Active Retirement Group and architect Jenny O'Leary.
The Aughrim project is one of five around the country selected by a panel of experts following an open call that invited community groups and an architect who has a connection to their town or village to partner on and submit a regeneration project proposal that aligns with the Government of Ireland's Town Centre First Policy.
Each of the Hometown Architect projects will receive €10,000 in development funding, as well as practical support under the Irish Architecture Foundation's Reimagine placemaking programme.
Speaking about their project, the Aughrim team said: "We are thrilled to have the opportunity to work with the Irish Architecture Foundation and to collaborate so closely with architect Jenny O'Leary in pursuit of imaginative, creative and sustainable ways of making Aughrim more inclusive, mobility-friendly and accessible for all."
The 'Suppose a Stone' team is undertaking an all-ages, interspecies accessibility audit of Aughrim, with the community project launched as part of Aughrim's St Patrick's Day parade on March 17.
Visitors to Kunstverein Aughrim were invited to complete a worksheet, aimed at discovering and uncovering some of the successes and challenges of Aughrim's built environment. Based on these findings, they will devise a series of workshops on specific issues within the local built environment, towards developing and testing potential solutions.
Suppose a Stone prioritises accessibility through creativity and inclusivity, with a long-term vision of radical hospitality for all.
Commenting on the Hometown Architectecture-funded projects, Nathalie Weadick, incumbent director of the Irish Architecture Foundation, said: "The IAF team and I are very excited that 'Suppose a Stone' is one of the five selected projects from around the country. The Aughrim project balances big vision, local insight and a creative approach.
"We look forward to seeing how it tangibly enhances accessibility and inclusivity for the Aughrim community over the course of the year and further into the future. We are delighted to have the support of the Government, whose Town Centre First Policy for improving, energising and transforming rural towns to make them better places to live, work and enjoy is at the heart of our Hometown Architect programme."
Minister Heather Humphreys, T.D., Minister for Rural and Community Development, said: "My Department of Rural and Community Development shares responsibility for the national Town Centre First Policy. A key aim of this policy is to enable local communities and local businesses to be key drivers of development as well as central to the re-imagining and planning of their towns for the future.
"The IAF's Reimagine programme, with its focus on placemaking, further enhances the Town Centre First approach and the work of local groups towards making our towns attractive places to live, work and visit.
"The applicants to Hometown Architect presented a wide variety of quality projects aimed at affecting change on a local level. The selected projects will set the scene for others attempting similar focus on vacancy and dereliction in our rural towns and bringing new life and focus back to our town centres."
Hometown Architect is funded by the Arts Council and the Department of Rural and Community Development, with additional support to the Irish Architecture Foundation from the Department of Housing, Local Government and Heritage.