Arklow joins nationwide initiative aiming to create circular economy for clothing and textiles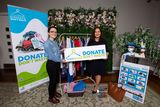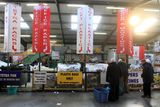 Ria McGuire
Wicklow People
A new initiative to encourage more recycling of clothing and textiles launches in Arklow today at St Mary's College.
Donate, Don't Waste is a project created by Community Resource Network Ireland, the all-island network for community reuse, recycling and waste prevention.
Their aim with this initiative is to develop a circular textile system for Ireland. Arklow is one of three locations in ireland selected to take part in the pilot.
Christine Costelloe, the Circular Textiles Research Lead, said: "We're very excited to work with Arklow, and it is one of three areas in Ireland we're looking at - there's also Charleville, County Cork and Buncrana in County Donegal.
"We chose the Arklow area as we have working closely with Wicklow County Council and their environmental officer, and Arklow is very environmentally involved, specifically their Tidy Towns is very successful. The size of Arklow also fits the profile of what we looked at in previous research."
She added: "The main issue is that really all clothing and textiles have value, and keeping them in circulation in Ireland has the potential to save environmental resources and create local jobs and training opportunities.
"A lot of people aren't aware of how much textile waste there is in Ireland - 68,000 tones of textile waste is discarded every year by households and commercial users."
In Arklow, the project aims to understand attitudes and behaviours towards unwanted clothes and textiles, which includes sharing information on where and what to donate, and increasing donation points to make donating easier.
Christine said the plan in Arklow is to create two donation drop-offs days, the first on May 18, and the second on June 1 at Arklow Recycling Centre, between 10a.m. and 3p.m.
In addition to the collection points, CRNI have also set up a survey, which gives the opportunity for participants to win an All4One voucher for €50.
"In Arklow, and Ireland, we are trying to make textile donations easier and also educate people on what they can or cannot donate to charity shops," said Christine. "You can donate to clothes banks, but ideally charity shops are the best donation point as they can money from the donations.
She added: "In addition to working with Wicklow County Council, St Vincent's Arklow and the East Region, we're delighted to be also working with St. Mary's College TY students, who have studied the impacts of fast fashion on the environment."
That link is why the launch of the Arklow Donate, Don't Waste campaign will take place at St Mary's on Wednesday, May 18.
The project is funded by the Environmental Protection Agency's Green Enterprise: Innovation for a Circular Economy grant-aid funding programme and all donations will benefit St Vincents, the project charity's partner.
To find out more information about Donate, Don't Waster and their survey visit donatearklow.ie