Wexford gardaí praised for securing conviction against motorist who swerved at an ambulance on rural road
Ambulance Operations Manager for Wexford Ger Carthy says there can be 'no hiding place' for those engaging in this type of behaviour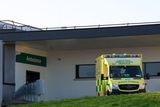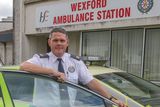 Pádraig Byrne
Wexford People
Those who work for the National Ambulance Service (NAS) can often find themselves in hostile situations. Regardless of the fact that their presence is solely to provide critical medical care, there has been a rise in the number of incidents whereby ambulance personnel have by verbally abused or physically assaulted.
With this in mind, Resource Operations Manager with the NAS in Co Wexford, Ger Carthy, has praised gardaí for tracking down and prosecuting a man who reportedly swerved aggressively towards an ambulance on a rural Wexford road before sticking his fingers up at the driver.
The ambulance, which had a patient on board at the time, was forced to take evasive action on the road near the village of Taghmon and according to Mr Carthy, who is also an independent councillor for Wexford, it had the potential to be much more serious.
"I just want to thank and congratulate Wexford Gardaí on taking action and securing a prosecution in this case, particularly the investigating member Garda Martin Russell," he said. "I think it's important to get the message out that there's no hiding place for this type of behaviour. This person saw fit to endanger the lives of paramedics and their patient with his actions.
"It's heartening to know that Gardaí will track down those responsible and secure a conviction and we need people to realise that this type of behaviour will not be tolerated."
The man involved appeared before Wexford District Court last week where he pleaded guilty to a charge of careless driving and was given a fine and five penalty points.
From a garda perspective, Inspector Graham Rowley praised the ambulance driver, as his descriptions led to the perpetrator being tracked down.
"The driver of the ambulance definitely thought there was going to be a collision," he said. "And yet, he was able to provide us with a great description of the vehicle and the driver. Unfortunately, the CCTV cameras on board the ambulance didn't manage to capture the registration plate of the vehicle, but based on the description provided, Garda Russell was able to locate the vehicle locally, identify the driver and secure the conviction."