Two large-scale approved developments in Wexford are appealed to An Bord Pleanála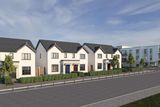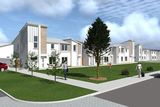 Maria Pepper
Wexford People
Appeals have been lodged with An Bord Pleanála against the recent granting of planning permission by Wexford County Council for two large residential developments of over 400 housing units on the far side of Wexford Bridge at Crosstown and Ferrybank.
Several local residents have submitted appeals against the proposed construction by a Dublin-based company of 222 homes, a creche and two retail units at Crosstown with An Bord Pleanála due to give a determination by June 29.
Dronoe Ltd, with a registered address in Lucan, was given the go-ahead to build the development of houses, duplexes and apartments on an 18-acre site owned by the well-known Wexford solicitor Liam Hipwell and James McGillycuddy, director of Ferrybank Enterprises Ltd, who gave their consent for the planning application.
More than 20 submissions were made by local residents during the initial planning process, most of them expressing concern about the density of the proposed scheme being out of character with existing patterns of development; persistent flooding on the site during rainfall; inadequacy of the existing sewerage system; the impact of additional traffic on Wexford Bridge and the R741 road as well as funerals going to Crosstown cemetery, and the destruction of hedgerows and wildlife habitats.
But a senior planning official said proposed development would contribute positively to the area while delivering key objectives of the County Development plan 2022 – 2028.
Meanwhile, the local authority's recent decision to grant approval to Wexford Harbour Developments, with an address in County Limerick,  to build a Large-scale Residential Development (LRD) of 191 houses and apartments, a creche and a public coastal park at nearby Tincone on land owned by the the St John of God Sisters in an area known as the Dairy Fields, has also been appealed.
Local residents had objected to the project on grounds which included its proximity to a designated area of conservation and natural heritage, the danger of a detrimental impact on wildlife habitats, the proposed multi-storey apartment block not being in keeping with the character of the area and an increase in traffic congestion. They also said that there was no notice of an application  for a licence to carry out foreshore work.
But after considering the application, planners were of the view that it would not seriously injured the amenity of the area and would be in accordance with proper planning and sustainable development.
The lands  had previously been earmarked as a potential site for a new IT Carlow Campus but difficulties arose about the location being a special area of conservation and concerns about added traffic on Wexford Bridge.
It was proposed that approximately 38 of the residential units at Ferrybank would be made available to Wexford County Council or an Approved Housing Body for social housing.