Tributes to Wexford District Council manager Angela Laffan on her retirement after 42 years' service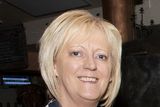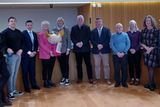 Maria Pepper
Wexford People
"Wexford town was a better place for having you on its team", retiring District Manager Angela Laffan was told as she bowed out this week after 42 years service in local government.
Angela's last day coincided with the monthly meeting of Wexford Borough District Council on Monday and councillors and fellow officials took the time to shower her with tributes and wish her a happy and healthy retirement.
Mayor of Wexford Maura Bell said she knew Angela (nee Doran)  all her life and thanked her for all the  guidance and advice she gave her when she joined the Council after the last election in 2019.
"You have given long and efficient service and you are going to be sorely missed. I hope you enjoy every moment of what retirement means to you."
Complimenting the former finance officer on her exceptional attention to detail, Council CEO Tom Enright said Ms Laffan gave distinguished service over 42 years in the largest town in the county,  working initially with Wexford Corporation and steering her way through the administrative changes to Wexford Borough District status.
"You are going to be a huge loss to us. I haven't had to get too involved in Wexford town because I know it has been in capable hands. She has made my job a lot easier. Wexford town and district won't be the same without you. You will be a hard act to follow and we will notice that more and more once you are gone", he said.
Director of Services Sinead Casey first met Ms Laffan when she came to Wexford in 1996 to work on the town's main drainage scheme and worked closely with her after becoming Borough Engineer.
She said some contractual and technical issues related to the drainage scheme arose recently and she admired how the District Manager was able to immediately recall the relevant information.
County Council cathaoirleach George Lawlor said "Wexford town has been a better place for having you as a part of the team".
"In my 19 years on the Council, you were the 'go to' person. I wish you every enjoyment in your retirement, you deserve it".
Cllr Leonard Kelly said "you were an absolutely steady hand for me on the right things to do during my time as Mayor".
Cllr Garry Laffan also paid tribute saying he was acquainted with the District Manager before joining the Council and he  expressed thanks for her assistance during his mayoral term.
Cllr David Hynes recalled the welcome and support he received from people like Angie when he was co-opted to the Council following the death of Cllr Michael Enright and complimented her on the valuable work she did as finance officer in bringing Council finances back on track.
"She always knew the right thing to do. For me, it's the end of an era. She has been part of my life on the Council. She is going to be hard to replace," he said.
Cllr Tom Forde who was co-opted following the retirement of Cllr Anthony Kelly said she was a "great source of knowledge and advice" for him while Cllr John Hegarty said it was an eye-opener  to see how she did things – "Angie went about her business with great efficiency and got things done.
"I know you are squirming up there listening to all the wonderful things being said about you  but you are going out the door knowing you have made a difference to your town. In the years ahead, that is something you can be proud of."
Thanking the officials and councillors for their tributes, the District Manager recalled that she was 17 years old and straight out of school in the Loreto when she started working with the local authority  and over the years she got to know many wonderful colleagues and made great friends.
She said Wexford town was transformed during her career in local government. She  worked on many projects  including the main drainage scheme and the urban renewal programme but the wheels keep turning and now other exciting developments such as Trinity Wharf and Monck Street are coming down the line.
"I didn't think of it as a job. I enjoyed it every day," she said.