Pictures show Wexford Loreto students extending hand of friendship to Ukrainian children and their families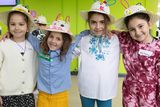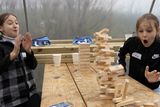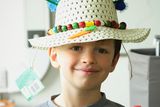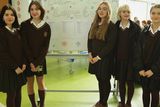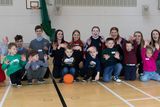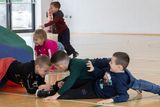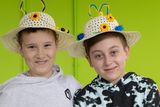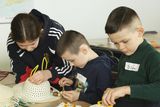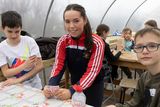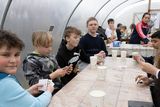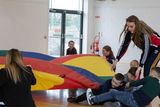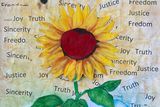 Simon Bourke
Wexford People
A group of Wexford students have held a special day of celebration and entertainment to help integrate young Ukrainian children into their new lives in Ireland. Held in the Loreto College, the event was for children aged 5-13 and their parents and saw kids and adults alike engage in games, music and dance as the students extended the hand of friendship to those fleeing the war.
Teacher Karina Johns organised the event after meeting some Ukrainian parents in Min Ryan Park.
"I got involved with the Wexford Town Friends of Ukraine walk and decided to bring a group of students along to it," said Karina. "After numerous conversations with individuals and families in the' walk and talk' group in the park, it transpired that some of the younger children were very unsettled and upset in their new surroundings."
From there an idea was born, an event which would allow those "children to simply behave like children, make new friends and forget their worries for a little while".
Orchestrated by Karina and 18 of the school's fifth year students, it was attended by approximately 100 people and began with a lunch bolstered by home-baked cakes and bread courtesy of the school's staff. Ably assisted by Julia Syrotenko of Wexford Local Development (WLD) the students showcased a painting created by Robyn Carty and Elena Ebner which depicted the Ukrainian sunflower surrounded by the words which symbolise the Loreto's ethos; truth, justice, freedom, sincerity and joy.
The children were then divided into three groups and involved themselves in a range of activities with students and teachers (Ian Grace, Olivia Monaghan, Ruth Kennedy and Tadhg O' Brien) on hand to offer guidance and support where required. With Easter on the horizon the kids took a crash course in Irish tradition, making Easter bonnets, Easter cards, Easter chicks and even taking part in some classic egg and spoon races.
For the adults there was bingo, conversational speed dating and singing before songs from Sonya Briukhovetska and Iseult Becker and a session of salsa dancing led by Ms Johns herself. For the final half hour everyone came together for traditional Irish music punctuated by an impromptu performance on the piano by Bogdan Grechko, an inspirational 8-year-old Ukrainian boy.
"The entire event on the day was run by the incredible fifth year students and the wonderful Ukrainian students in Loreto Secondary school as well as members from the Wexford Town Friends of Ukraine volunteers. Frances O'Grady and Paul Drury were a fantastic help and support," said Karina. "The best part had to be the Easter egg hunt outside. This was the kids' first ever hunt as this is not a Ukrainian tradition. The atmosphere was electric. Children were frantically running around, laugher and screeches echoed from the walls in the courtyard.
"Every child had a belly full of chocolate by the time they had to say their farewell. The smiles of every single child will stay in the minds of the staff and students in Loreto for quite some time to come."
This sense of excitement and joy was shared by the students involved in putting the event together, including Sonya Briukhovetska one of the Loreto's Ukrainian students.
"Yesterday was an unforgettable experience for me, allowing me to make my own modest contribution to the school community," said Sonya. "I couldn't have been happier about the opportunity to help organise the celebration, and I had an extraordinary amount of fun throughout the day. The laughter and happy smiles that surrounded me filled my heart with renewed hope. This event means a great deal to me, and my sincere thanks to all involved, and especially to Ms Johns, for successfully organising this wonderful day of Easter for the Ukrainian diaspora."
Ailbhe Cullinane was involved with providing some entertainment and light relief for parents of the children and admitted she had some reservations prior to the day,
"Before the event we were all a bit nervous about trying to get over the language barrier. But after a game of bingo and some salsa dancing, we learned that there is more to having a connection with people than sharing the same language. At the end of the day, we all became great friends and had a new insight into each other's lives and cultures. I left the event with a huge smile on my face and look forward to helping more Ukranian families settle into our community," she said.
Describing it as an honour to have the families visit the school, Ellen Coleman was part of a group which planted sunflower seeds and played games with the children. "It was great to be able to connect with the younger ones and to be able to combine our cultures together and learn from each other," said Ellen. "There was a real feel-good feeling around the school for the day and the attitude and effort from everyone was amazing to see."
An overriding theme from those reflecting on the day was how laughter could be heard from beginning to end, something which Megan Dee attested to. "There was great laughter throughout the day from every child that walked through the door of Loreto. It was an incredible experience to have been able to part in such a special event. It was challenging to communicate with the children at the beginning but as the day went on both us and them were able to understand each other better. It was an extraordinary experience as I have never done something like this before but overall was an amazing day lots of memories and lots of laughter all around."
For Niamh Bates the experience was so rewarding that she would happily do it all over again at the first available opportunity. "We weren't sure what to expect because we had never done anything like this before. It was great to get to know all the kids who embraced the day as much as we did. It was very rewarding, and I would do it again in a heartbeat.'