McDonald's Wexford presented with 'Golden Santa Hat award' for raising over €10,000 for Ronald McDonald House Charities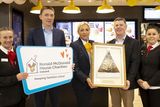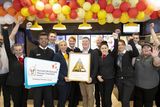 The employees at McDonald's restaurant in Wexford Town have been presented with the Ronald McDonald House Charities Ireland 'Golden Santa Hat award' for raising almost €10,000 – the most of any other McDonald's restaurant in Ireland – during McDonald's annual 'Santa Hat' fundraising initiative. All money raised will go towards providing accommodation and a caring, supportive environment for families whose children are undergoing medical treatment at Children's Health Ireland in Crumlin.
"I'm so proud of the team here in Wexford town and all our incredible customers who have given so generously to RMHC Ireland," said John Byrne, franchisee at McDonald's Wexford Town.
"Our 120 crew pulled out all the stops this year with the Santa Hat initiative, with daily targets and competitions between Shift Leaders to sell the most RMHC Santa Hats on their shifts. In addition, many of our employees travelled around Wexford town selling the hats during the busy Christmas period and arranged collections to buy presents for the children staying at RMHC Ireland during Christmas. Several of our crew also volunteer at the RMHC Ireland house in Dublin, so to receive this award is truly touching for the whole team," he added.
McDonald's is the largest corporate supporter of Ronald McDonald House Charities Ireland and runs several fundraising initiatives for the charity throughout the year, including selling RMHC Ireland Santa Hats at Christmas.
The Jones family from Co. Wexford, who stayed in the house while their son Evan received treatment, shared a heartfelt thank you to the charity for their support. Evan's father Adrian said: "When Evan was diagnosed with a serious illness in January of this year, we were lucky enough to be accepted to stay at the Ronald McDonald House. The Ronald McDonald House offers families in their time of need a 'Home away from Home'. What they do for the families with sick children, 365 nights of the year is just kindness beyond belief! Thank you from the bottom of our hearts."
The Santa Hat fundraising initiative has raised over €1.3 million for RMHC Ireland, since it first launched over 11 years ago. Last year a total of €726,960 was raised across all 94 McDonald's restaurants nationwide, almost double the amount raised for the charity in 2021.
The RMHC Ireland Golden Hat award was first introduced in 2019 in recognition of the fundraising efforts of the McDonald's franchisees and crew members across Ireland for the 'RMHC Ireland Santa Hat' initiative. The Santa Hat fundraiser generated over €152,260 in 2022 across all 94 McDonald's restaurants in Ireland.
Joe Kenny, Chief Executive Officer of Ronald McDonald House Charities in Ireland, said: ""We are very excited to share the RMHC Ireland Golden Hat to McDonald's Franchisee John Byrne and the McDonald's Wexford Crew Members for going above and beyond for the 2022 RMHC Ireland Santa Hat fundraising initiative. It is one of our flagship fundraising initiatives and the support given by McDonald's Ireland ensures that vital funds are raised to support families during a vulnerable time in their lives".
Ronald McDonald House Charities Ireland has supported over 5,000 families since first opening its doors 19 years ago. The average length of stay for a family in Ronald McDonald House last year was 26 nights.
To learn more about Ronald McDonald House Charities Ireland and the families they support, visit https://rmhc.ie/