Last call to see 'dream-like' works by artist Serena Caulfield in major solo exhibition at Wexford Arts Centre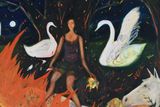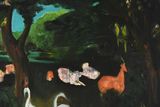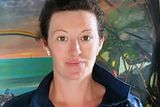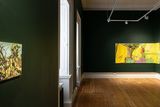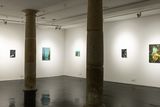 Maria Pepper
Wexford People
A major exhibition of new paintings by the Kilmore Quay-based artist Serena Caulfield is continuing until Saturday, March 25 in the upper and lower galleries of Wexford Arts Centre.
'Not somewhere else but here', which was officially opened by Arts Council chairperson Kevin Rafter, is the artistic outcome of Caulfield's selection for the MAKE/Curate programme, an initiative between Wexford Arts Centre and the Arts Department of Wexford County Council.
The programme provides artists working regionally with a chance to work with national curators to critique their practice. Over the course of two years, Caulfield worked with curators Marysia Wieckiewicz-Carroll and Cliodhna Shaffrey toward the Arts Centre solo exhibition. Mentorship was also provided by the artist Sinead Ni Mhaonaigh.
'Not somewhere else but here' is a line from Adrienne Rich's poem What Kind of Times Are These which deals with the responsibility to speak out against injustice and to listen when we hear others doing the same. The artist felt it resonated in the current climate despite being written nearly 30 years ago.
Blending past and present together with dexterity, Caulfield's works show that art can transcend both time and gender.  Her sources range from classical artworks to children's drawing books, aural histories and local myths.
in an exhibition essay, the curator Marysia Wieckiewicz-Carroll said being able to visit an artist's studio over long stretches of time allows for a certain intimacy of viewing.
"One gets to see the work 'happening' in real-time, as it slowly emerges, develops, takes shape. You see blank canvas getting stretched and primed; numerous paintings getting started, arriving at their assumed end point, to be replaced by a new work 'on the go'.
She said 'Not somewhere else but here' went through various stages of reincarnation with different elements brought to life or faded away. Some of the artworks vanished to emerge again, re-worked with only faint traces of their past life on the surface.
For a while a large, a white rabbit was there, resting on a horse's back now consumed by fire. The same rabbit can be spotted in a number of Serena's earlier works among them "And Creatures Dream" (2021).
The curator said a white rabbit is regarded as a creature of dreams and its presence re-enforces a dream-like, surrealist quality in Caulfield's work, marking a departure from depicting a more rational vision of life in favour of dreamscapes that capture the uncanny and unleash the potential of the unconscious.
The white rabbit also anchors the work in a local context, reviving the memory of an old myth of a white hare that used to appear in the artist's 400-year old garden. The uncovering of such a myth suggests an act of looking closely at your surroundings, seeking out information that helps you better understand and relate to a place.
Caulfield is a recipient of the Arts Council of Ireland Visual Arts Bursary, an Artlinks Visual Arts Bursary, and an Arts Council Agility Award. She has exhibited regionally and nationally. Recent group shows include the Zurich Painting Prize, Crawford Art Gallery, Cork (2022); Generation 2022 – New Irish Painting, Butler Gallery, Kilkenny (2022); 140th Annual Royal Ulster Academy Exhibition, Belfast (2021), Crossings, King House, Boyle Arts Festival (2021), and MEET, Periphery Space, Gorey School of Art, (2021).
Wieckiewicz-Carroll is an independent curator and art writer. She has curated a number of exhibitions and projects in Ireland and abroad, most recently New Considerations of Familiar Settings at Newbridge House, Donabate as an inaugural guest curator in collaboration with Fingal County Council Arts Office.