Entrepreneurial talents of Wexford business owners recognised with prestigious fellowships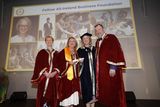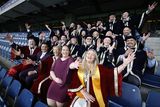 Simon Bourke
Wexford People
A trio of Wexford entrepreneurs have been admitted as Fellows of the All-Ireland Business Foundation (FAIBF) for their achievements in business. The founder of Spiritual Earth, Calodagh McCumiskey, and Thomas and Sorcha Kenny of K&K Windows were honoured at the annual All-Ireland Business Summit which saw over 500 people from across Ireland's business community recently gathered at Croke park in Dublin.
Now in its seventh year the event welcomed business leaders and innovators for an event which featured exhibitors, networking opportunities and an agenda exploring topical issues and valuable business insights.
Calodagh's work with Spiritual Earth, a company which creates wellbeing solutions to help organisations maintain a culture which fosters innovation, cooperation and productivity, was acknowledged with an award which commended her "exemplary leadership and profound impact within the business community".
She was nominated by an independent panel of leading academics and business experts. Calodagh was among 20 entrepreneurs conferred at the All-Ireland Business including Thomas and Sorcha Kenny of K&K Windows from Craanford, just outside of Gorey. Established in 1995, K&K Windows has rapidly grown into one of Ireland's largest fabricators and installers of uPVC & aluminium products for both residential and commercial clients.
All of their products are fabricated onsite at their factory in Craanford. The business had previously been recognised for its contribution to trade and commerce in Co. Wexford having been named as the Wexford Small Business Of The Year by the All-Ireland Business Foundation in 2021.
Deputy Chair of the AIBF Adjudication Panel, Kieran Ring, praised Calodagh, Thomas and Sorcha for theirs services to entrepreneurship. "Our newly admitted Fellows of the AIBF represent what's great about Irish business. Their drive, positivity and high performance have propelled the Irish economy to new heights, and we're privileged to be working alongside them as members of The AIBF Register of Irish Business Excellence (TRIBE).
"It was thrilling to see all of the Fellows wearing their cap and gown on stage when receiving their Certificate of Fellowship. It reflects the scale of the honour which this represents, and adds to their status as leading lights of Irish entrepreneurship."
Calodagh said, "It is a personal honour to be selected to be a Fellow of the AIBF – an honour I particularly value and I look forward to contributing to the foundation in the months and years ahead."
The All-Ireland Business Foundation is an autonomous national accreditation body tasked with enterprise development and the promotion of Best-in-Class Irish businesses.