Wexford CBS savour special day as Gilbert grabs late winner in FAI Schools U19 A Cup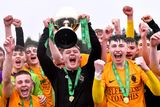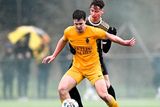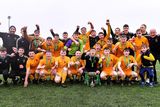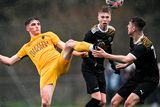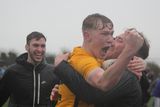 Alan Aherne
Wexford People
Wexford CBS 3 Holy Rosary College (Mountbellew) 2
With reaction to the Oscars still filling the airwaves, it was entirely appropriate that Hollywood-style drama should ensue on Wednesday before a magnificent Wexford CBS combination secured a sensational late victory to be crowned FAI Schools Dr. Tony O'Neill National Under-19 'A' Cup champions for the first time.
The drama was simply off the charts at a rain-lashed AUL Complex in Clonshaugh, with the brilliant Boker Boys securing the title of best team in the country with an incredible injury-time goal.
An additional 30 minutes was the last thing anybody wanted given the awful weather, but it looked to be heading that way before Darby Purcell rose high to knock a long free-kick taken by the outstanding Jesse Dempsey into Rory Gilbert's path.
The second-half substitute only had a split second to get a shot away, but he made a sweet connection with his right boot and it was a beautiful sight to see it nestling in the left corner of the net.
The winning goal arrived in the 93rd minute, and it sparked wild scenes of joy as it was scored in the area of the ground heavily populated by CBS supporters.
With fans invading the pitch from behind the goal, and the substitutes also emptying the bench to celebrate, it was one of those precious moments in time that will remain etched in the mind forever.
However, there was still work to be done for the ten-man leaders, who had lost captain and goalkeeper Shay O'Leary to a straight red card in the 59th minute.
Opponents Holy Rosary College from Mountbellew had no other option at that stage than to throw caution to the wind, and Wexford CBS hearts skipped a beat when they launched an immediate attack and Aironas Kantauskas was only inches away from getting the touch required on a far-post cross.
And then, with almost five additional minutes played, the Galway lads did have the ball in the net, with Conor French finishing off an Ian Fahy delivery.
Thankfully, stylish CBS defender Jesse Dempsey had been pushed in the build-up, and the free-kick came as an enormous relief as the drama continued to ramp up.
The remainder of the action was concentrated at the other end of the field, with two-goal hero Sam Norval only denied a hat-trick by a Rory Walsh save at the expense of a corner-kick that was nearly as good as a score at that stage.
Norval went on to win a precious free-kick that also wasted some precious time and finally, with my stopwatch reading 54 minutes and nine seconds, referee Niall McLoughlin blew his whistle for the last time and absolute bedlam was the order of the day.
Seeing a team celebrating an All-Ireland win will never grow tiresome, and the manner in which this marvellous victory was achieved made it even more special.
Indeed, it was all the sweeter given that the sides served up such a marvellous contest, one of the finest games I have seen in any sport in a long, long time. We may still be in the month of March, but if I attend another match as engrossing as this one before the year is out, I will be pleasantly surprised.
To write that the day had been eventful would be a gross understatement. The final was originally scheduled to kick-off on Home Farm's grass pitch in Whitehall at 1 p.m., and teams were in the middle of their warm-ups in an adjoining area as the large support from both schools arrived.
However, an official with a loudspeaker emerged close to the off to announce that the pitch was deemed unplayable, with the game moved to the AUL Complex in Clonshaugh for a 3 p.m. start.
That time was later altered to 2.45 p.m. with mutual agreement from both sides after everyone arrived safely at the new venue, and there was a cracking atmosphere despite the non-stop rainfall.
Wexford CBS were returning to the artificial surface they had graced in their 4-2 semi-final win over St. Columba's from Stranorlar in Donegal, when Darby Purcell and Sam Norval scored two goals apiece.
And the pair were centrally involved again in ensuring the perfect start for a side bolstered by the formidable presence of Kaylem Harnett, a mere two days after the midfield playmaker helped the Republic of Ireland Under-17 international team to European championship qualification in Cyprus.
Right winger Luc Farrell delivered a cross that Purcell nodded back out to Norval, and the first-time strike that followed was absolutely perfect as he arrowed a low drive beyond netminder Rory Walsh.
It was a tough blow for a Mountbellew side already without the services of the suspended Cormac Proulx, who had been dismissed in their 2-1 semi-final success against Douglas Community School from Cork.
Wexford CBS weren't without their problems either, with Poland under-age international Filip Wasilewski ruled out as a result of a concussion sustained in a recent Wexford FC match against Waterford. Promising defender Oscar Ramsey was also unavailable, but the 14 players they did deploy over the 90-plus minutes were all heroes.
There was an immediate let-off for the leaders in the fifth minute, as Mountbellew's Ryan Nolan dragged his low shot just outside the far post.
Both centre-halves were then called upon to make vital interceptions, with Tadhg Brohan and Ben English coming up with key interventions when the Galway side threatened.
The overall display of Brohan really caught the eye, and it was a tribute to the astute coaching of teachers Pádraig Whitty and John Fanning.
One of the few players involved for whom soccer wouldn't be regarded as his main sport, the county Under-20 hurler filled a difficult position in admirable fashion, even though he isn't built in the traditional mould for that role.
His composure on the ball was remarkable as he brought it repeatedly out of defence, always looking to get it to the feet of the team's play-makers.
In that regard, Kaylem Harnett posed a constant threat and dominated the early possession in particular, despite the best efforts of Tiarnán Proulx to keep him quiet.
Demanding the ball from colleagues and always putting it to good use, his awareness of everything that's going on around him singles him out as a special player.
And while an assured first touch is regarded as essential in hurling, Harnett has it on a football field and it gives him those much-needed extra seconds to hurt the opposition.
Regardless of how the ball arrives in his vicinity, he has that uncanny ability of being able to trap it, kill it stone dead, and make it work to his team's advantage.
I firmly believe we are witnessing the formative years of a 15-year-old with the potential to become one of the finest sportsmen Wexford town has ever produced, and it's a privilege to watch him shine.
Harnett's role as the attacking midfielder was rendered all the more effective by the tireless work of the holding pair behind him, with Connor Mackey and Darragh Byrne-Moloney both giving their all and allowing the number 7 to flourish.
And with the skilful Sam Norval offering constant support to Harnett, the pair tormented a Mountbellew side forced to live off scraps for long periods of the opening half.
A couple of decent headers from Darby Purcell missed the target, with his second attempt arriving at the end of a flowing move that featured Darragh Byrne-Moloney, Brandon Stafford and Luc Farrell.
Norval forced Rory Walsh into a good save, but the Galway side managed to lift the siege and Ciarán Mulhern fired narrowly wide after a delivery from the left by Tiarnán Proulx broke into his path.
However, the CBS lead was doubled in the 26th minute, with the polished Sam Norval doing all the hard work as he latched on to a Shay O'Leary kick-out and raced away from Tomás Miskell before finishing beyond Walsh with considerable aplomb.
Any sense of complacency that might have kicked in was quickly erased, as a Ronan Murphy goal was ruled out for offside after he reacted to the rebound from a Ciarán Mulhern shot.
And when Conor French floated a long free-kick into the CBS box in the 33rd minute, Mulhern managed to get a vital touch and his downward header nestled in the corner of the net.
He almost doubled his tally when Murphy played him in, only for Shay O'Leary to come to his side's rescue with a top-notch save.
Darragh Byrne-Moloney had a go from distance while a Kaylem Harnett shot was saved at the near post, but it took a stunning save from O'Leary to ensure his side still held that 2-1 lead at the break.
I was directly behind the flight of the ball in additional time when Ciarán Mulhern curled a long-range shot towards the far top corner, but the CBS number one rose like a cat and turned it acrobatically around the post with the best stop of the game.
Ryan Nolan shot wide for Mountbellew on the restart, while Sam Norval was denied a hat-trick when he tested Rory Walsh after a breakaway led by Harnett and Purcell.
The key moment of the second-half arrived in the 59th minute, when Shay O'Leary raced out of his goal to latch on to a back pass from Jesse Dempsey.
Mountbellew's Ronan Murphy was equally determined to get there first, and he came out the worst of what seemed to be a 50-50 contest.
However, referee Niall McLoughlin thought otherwise, and he brandished the red card to leave Wexford CBS in a position they could never have envisaged.
Reserve netminder Shane Carroll was introduced, and it was a double whammy for the Boker Boys as the free-kick that followed from Ryan Nolan produced a stunning equaliser.
In fairness, there was nothing Carroll could do to keep it out, as the Galway lad beat the wall with a lovely left-footed strike that was always destined for the net.
The CBS mentors were forced into remedial action, with Norval left as the sole striker while Darby Purcell dropped back into a deeper role.
They also moved Kaylem Harnett to his international position of right-back and, while that was understandable in the circumstances, it did rob the team of a key attacking threat.
As it happened though, practically all of the probing done by the CBS after the dismissal came down their left flank, and that's where Jesse Dempsey came into his own.
His display in the last quarter was nothing short of sublime, a real Rolls Royce of a footballer as he strode majestically down his side of the field and constantly looked for openings.
It was easy to see why he has featured for UCD against some of the best wingers in the country in recent League of Ireland Premier Division outings. And it was entirely fitting that the trophy he helped to secure commemorates Tony O'Neill, as 'The Doc' was the inspiration behind the rise of football on the Belfield campus.
Dempsey and Harnett both had long-range shots saved, while Brandon Stafford also went close from a Darcy Purcell cross.
It was a tribute to the CBS efforts that the loss of a player didn't appear to faze them in any way. In fact, they were full of energy and their burning desire to get the job done had to be admired.
There was a scare early in additional time when a long ball by Mountbellew's Ian Fahy was controlled by Ryan Nolan, but he pulled his shot across goal and wide.
And then, just as we were thinking ahead to an extra half-hour, Rory Gilbert produced a moment that the striker and his team-mates will hold dear for the rest of their lives.
Mountbellew tried so hard to respond, but there was a defiance about Wexford CBS that ensured this was going to be their day to savour glory.
It was a case of third time lucky for the school, as their Minor side lost the All-Ireland final to St. Joseph's from Galway last September, while the same school had defeated them previously in the 2017 first year decider.
Now they have deservedly taken their place as the finest football school in the country, and as a past pupil I can finally appreciate just how special it is to see one's alma mater reaching the sporting summit.
The joyous chants of 'Wexford's Mourinho' in the after-match huddle were directed towards co-manager Pádraig Whitty, and it was impossible to reflect on Wednesday's wonderful win without remembering his late father, Pat.
I can think of no other family that has made such a massive contribution to the promotion of grassroots football in this county over the years than the Newbawn clan, and this was just reward for Pádraig's non-stop work.
John Fanning, too, has given many years' service to the sport, both in the CBS and with various Wexford schoolboys teams, and his brilliant reading of the game was very clear to me from my vantage point close to the dug-out.
It was still raining when the triumphant team bus returned to Thomas Street shortly after 8 p.m. on Wednesday, and captain Shay O'Leary emerged with the Dr. Tony O'Neill Cup firmly in his grasp.
Sometimes the bad weather really doesn't matter though, and this was truly the case here as the car horns blared and proud parents and supporters alike welcomed this wonderful winning team to the place they call home.
It was the finest-ever sporting achievement by Wexford CBS without fear of contradiction, but don't be surprised if there's even more to come.
Wexford CBS: Shay O'Leary (capt.); Brandon Stafford, Ben English, Tadhg Brohan, Jesse Dempsey; Connor Mackey, Darragh Byrne-Moloney; Kaylem Harnett; Luc Farrell, Darby Purcell, Sam Norval. Subs. – Shane Carroll for Farrell (62), Rory Gilbert for Stafford, inj. (74), Ben Harpur for Byrne-Moloney (90+7), also Conor Maher, Kaelem O'Connor, Ryan Gavin, Liam Donoghue, Cormac Mythen, Darragh Kirwan, Conor Mullan, Liam Dempsey, Tadhg Hayes, Dean Hillis, Jakub Wasilewski, Filip Wasilewski, Oscar Ramsey.
Holy Rosary College (Mountbellew): Rory Walsh; Conor Byron, Conor French, Tomás Miskell, Ian Fahy; Tiarnán Proulx; Aironas Kantauskas, Ciarán Nolan, Ciarán Mulhern, Ronan Murphy (capt.); Ryan Nolan. Sub. – Cuan Lennon for Byron (85), also Seán Lohan, Michael Flattery, Shane Duffy, Jack Connolly, Ronan Kelly, Colm Haverty, Shane Flesk, Rory O'Reilly, Tony Shields, Cormac Proulx.
Referee: Niall McLoughlin (Dublin).