Kerry defeated by Wexford FC on first visit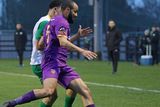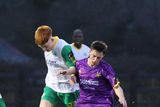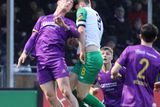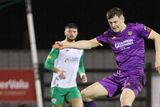 Alan Aherne
Wexford People
WHEN WEXFORD FC took a third-minute lead in Ferrycarrig Park on Friday, it looked like an ominous sign for first-time visitors Kerry FC in this SSE Airtricity League of Ireland First Division tie played in persistent light rain on a sodden surface.
After shipping a 9-1 hammering on the road to table-toppers Galway United one week earlier, the last thing the newcomers needed was for their brittle confidence to be further eroded.
And yet, to their credit, they matched Wexford step-for-step for the remainder of the game, and to some degree they could consider themselves unfortunate not to be turning the bus for home with at least one point in the bag.
That early goal was an excellent finish from one of Wexford's new faces. Midfielder Darragh Levingston lofted a long-range free-kick towards the back post, and captain Ethan Boyle nodded it back across goal for Mark Hanratty to apply a clinical finish with a venomous left-footed volley.
His first goal in the club colours is one he will savour, but it didn't lead to a similar-type collapse that Kerry endured on their previous outing.
Instead, they went toe-to-toe with their more experienced rivals before Wexford finally managed to give themselves some breathing space in the 77th minute.
Left-back James Crawford delivered a corner-kick from the right that was contested by the recently-introduced Danny Furlong before the ball broke into the path of Brandon McCann.
The central midfielder had put in a fine shift up to that point, and he supplied some icing for the cake in the form of a meaty drive through a sea of bodies that gave Kerry FC netminder Wayne Guthrie no chance.
Wexford should have been able to manage the game effectively from that point onwards, and a third successive clean sheet looked a realistic goal for netminder Noel 'Charlie' Heffernan.
However, it didn't come to pass, and the Rosslare lad will have good reason to be annoyed with his defenders after Kerry struck for a consolation goal that their general efforts deserved in the 88th minute.
Substitute Ryan Kelleher knocked the ball into the box from the left, and Leo Gaxha was left all alone to have a quick glance over his shoulder and deftly cushion a header into the far corner, well out of Heffernan's reach.
Gaxha had been the most inventive Kerry player from the off, primarily on the left flank although he occupied the central attacking role for a brief spell before half-time, and also after Nathan Gleeson departed in the 74th minute.
While Wexford fans shouldn't quibble at this second successive home win, and the seventh point from a possible nine in their last three outings, by the same token it was still an overall performance that leaves lots of room for improvement.
With the midfield engine room of Conor Levingston and Aaron Robinson laid low by injuries sustained during the scoreless draw in Ballybofey, manager James Keddy was forced into two changes in the team's strongest area of the field thus far.
Darragh, the younger of the Levingstons, replaced his brother, while Aaron Doran also came in and occupied the central attacking midfield role directly behind Aaron Dobbs.
The third change saw Jordon Tallon feature for the first time this season, as a replacement at right-back for Karl Chambers who was introduced during the second-half.
There was also a debut off the bench for New Zealander Corban Piper, who gave one clear glimpse of his capabilities with a surging run from deep at a tiring Kerry defence.
The game marked the return to home soil of Adamstown's Graham O'Reilly, the former Wexford FC academy player and Waterford first-teamer, and he had an engrossing battle in the middle of the field with Brandon McCann.
That early goal from left winger Hanratty should have been built upon in the 17th minute, after his low shot was blocked and fell invitingly for Aaron Dobbs.
The striker is normally a dab hand at finishing chances of this nature, but this time Kerry netminder Wayne Guthrie got down low to make a vital save and it kept his side in the game.
Leo Gaxha led the fightback and was centrally involved in his side's first two attacks of note.
He had Wexford captain Ethan Boyle twisting and turning before delivering a shot from the left that Noel Heffernan saved comfortably in the 20th minute.
Gaxha released centre-forward Nathan Gleeson on the next Kerry attack, and there was more power behind the latter's strike but Heffernan parried it to safety.
Kerry did enjoy a major let-off in the 39th minute, after Darragh Levingston was fouled on the right edge of the box.
James Crawford stood over the set-piece and curled a left-footed beauty beyond the wall, but it rebounded into play off the angle of post and crossbar.
The break fell kindly for Aaron Doran, but he couldn't get his feet sorted and the danger was partially averted.
However, an immediate foul on Reece Webb, this time on the left side just outside the penalty area, presented Darragh Levingston with a chance and he wasn't too far away with a good effort from the set-piece.
Kerry started the second-half with fire in their bellies and forced three early corners, with captain Matt Keane heading over from the first that was taken by Graham O'Reilly.
Jordon Tallon was almost punished for a poor attempt at a crossfield pass, with Seán Kennedy pouncing on the error and forcing Noel Heffernan into a good low save.
A handball plea didn't impress referee Paul Norton, when Nathan Gleeson's left-wing cross struck Ethan Boyle, while Rob Vasiu – a first-half replacement for the injured Andy Quaid – had a shot blocked for another corner after Gleeson did well on the byline.
The header by defender Kevin Williams from the delivery that followed from O'Reilly was only narrowly wide, and it was clear that Wexford had a battle on their hands to secure the points.
They did have the ball in the net in the 61st minute, courtesy of substitute Jordan Adeyemo after Aaron Doran and Aaron Dobbs combined, but he had strayed offside.
Darragh Levingston had a shot blocked before another Gleeson cross resulted in a second penalty shout, this time after Hugh Douglas intervened, but the man in the middle wasn't interested.
The second Wexford goal arrived after Kevin Williams swung his boot at a Mark Hanratty cross and almost turned the ball into his own net.
The relief at seeing it clearing the crossbar didn't last long, as McCann connected with the break from Crawford's delivery and was duly mobbed by the ball-boys from St. Cormac's FC as he celebrated his first goal in the purple jersey.
Jordan Adeyemo had a shot well saved by Wayne Guthrie at his near post, after Danny Furlong played a lovely pass into his path, but the sleepy defending that led to Leo Gaxha's goal meant the hosts had to endure a nervy finish.
Kerry won a free on the left and Gaxha tried to fool netminder Heffernan by directing it low towards his near post when he expected a cross, but the ball went narrowly wide.
The last throw of the dice saw Gaxha swing his boot at a headed clearance by Hugh Douglas, but it was nowhere near the target and Wexford were finally able to relax.
Kerry will take heart from their recovery from that early blow, and they should be confident of doing well on Friday at home to an Athlone Town side that Wexford dismantled 3-0.
Meanwhile, the Carlisle Grounds will play host to an east coast derby on the same night that will carry even more bite than usual, bearing in mind Ian Ryan brought a host of players with him from Ferrycarrig Park when he took over as Bray Wanderers head coach.
Wexford FC: Noel Heffernan; Jordon Tallon, Ethan Boyle (capt.), Hugh Douglas, James Crawford; Brandon McCann, Darragh Levingston; Reece Webb, Aaron Doran, Mark Hanratty; Aaron Dobbs. Subs. – Jordan Adeyemo for Tallon (52), Corban Piper for Doran (65), Karl Chambers for Levingston (65), Danny Furlong for Dobbs (71), also Colm Cox, Ben Lynch, Matthew Dunne.
Kerry FC: Wayne Guthrie; Kevin Williams, Shane Guthrie, Andy Quaid, Jonathan Hannafin; Samuel Aladesanusi, Matt Keane (capt.), Graham O'Reilly; Seán Kennedy, Nathan Gleeson, Leo Gaxha. Subs. – Rob Vasiu for Quaid, inj. (43), Seán McGrath for Keane (69), Ronan Teahan for S. Guthrie (69), Ryan Kelleher for Kennedy (74), Cian Brosnan for Gleeson (74), also Callan Scully, Alex Ainscough, Togor Silong, Cian Barrett.
Referee: Paul Norton (Dublin).
SSE AIRTRICITY FIRST DIVISION
Galway Utd 5 5 0 0 15 2 15
Cobh Rblrs 5 3 1 1 7 3 10
Bray Wderers 5 2 3 0 7 4 9
Waterford FC 5 2 2 1 7 4 8
Athlone Tn 5 2 1 2 8 8 7
Wexford FC 5 2 1 2 6 6 7
Finn Harps 5 1 2 2 4 6 5
Longford Tn 5 0 3 2 2 5 3
Treaty Utd 5 0 2 3 3 8 2
Kerry FC 5 0 1 4 4 17 1