Wexford footballers end league on bright note with win over Carlow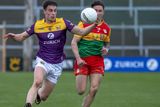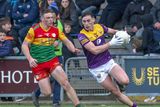 Alan Aherne
Wexford People
Wexford will go into their Leinster championship opener away to Laois on April 9 in a positive frame of mind after ending a generally frustrating Allianz Football League Division 4 campaign with a six-point win over Carlow in Chadwicks Wexford Park on Saturday.
They didn't help their cause with a wasteful approach that saw them top the wides count by a large 14-3 margin, and that meant the outcome wasn't put to bed until Eoghan Nolan's well-worked goal almost six minutes into additional time.
Nonetheless, Wexford were deserving winners as, every time Carlow secured a score in a generally tight contest, they seemed capable of responding quickly at the other end.
There was surprise earlier in the week when the game was moved to Saturday, given that John Hegarty's side still had an extremely unlikely outside chance of sneaking into a promotion slot if two of the other matches had produced bizarre outcomes.
It would have required minnows London and Waterford to both defeat Laois and Wicklow respectively by wide margins in order for a big Wexford win to seal second place.
The CCCC took a gamble by allowing the game to be brought forward, while the other three remained at 1 p.m. on Sunday. As I understand it, all final round matches should be played at the same time when at least one of the teams in any given game is still in contention, in order to preserve the integrity of the competition.
And while that didn't happen here, it must be accepted that it would have taken an outlandish set of circumstances for Wexford to surpass the now-promoted pair of Sligo and Wicklow.
Looking at the campaign on the whole, a slow start cost them dearly. That precious point should never have been dropped on the opening night against London (the only one secured by the exiles in seven outings), while they lost to a Laois side who weren't as strong as I thought at the time as their subsequent defeats to Wicklow and Leitrim proved.
One of the biggest plus factors from Saturday was the full outing that Gavin Sheehan got under his belt, as he is badly needed as the first-choice full-back for the bigger tests to follow.
His return for a first start since an injury sustained against Laois also freed the dynamic Páraic Hughes for a switch to centre-back where the full range of his talents shone through, chiefly some excellent tackling and a series of surging forward runs.
Sheehan, Dean O'Toole and Ben Brosnan came in for Brian Molloy, Conor Kinsella and Cian Hughes from the team that drew with Wicklow seven nights earlier at the same venue.
A Carlow side with nothing tangible to play for opened on a high with two quick pointed frees from captain Darragh Foley, before Brosnan hit back after a foul on Seán Nolan in the fifth minute.
Midfielder Cathal Walsh followed up with the equaliser after a long jinking run by Páraic Hughes, firing high and over for his first score at this level when it looked like a goal might be on the cards.
Brosnan was influential in creating the opening for Seán Nolan to push Wexford into a 0-3 to 0-2 lead after eleven minutes, and he also nailed his own second point when Dean O'Toole was impeded.
Kevin O'Grady utilised his blistering pace to dart forward from left half-back and set up Seán Nolan for a sweet outside-of-the-boot finish, but Carlow restored parity with a three-point burst in under three minutes.
Darragh Foley (free), Jamie Clarke and Ross Dunphy did the needful, with the latter only denied a goal by a very good reflex push-over save from Darragh Brooks.
Wexford hit back with two converted Brosnan frees, earned by Seán Nolan and Páraic Hughes respectively, before Darragh Foley replied at the other end.
And the hosts went in leading by 0-8 to 0-6, after Mark Rossiter availed of the advantage being played to slice over a lovely score from a Dean O'Toole off-load 35 seconds into the two additional minutes.
Wexford made life harder than it should have been in the second-half by racking up eight wides with just one in reply, and they started slowly as Foley (free) and rampaging defender Mikey Bambrick drew Carlow level by the 41st minute.
The visitors also had the ball in the net after 31 seconds, but Seánie Bambrick had fisted it over the line out of his hands at the end of a solo run. Referee Seán Lonergan went in to make doubly sure with his umpires before correctly awarding a Wexford free.
Mark Rossiter restored the lead (0-9 to 0-8) in the 42nd minute after good work by Eoghan Nolan and Páraic Hughes, only for Colm Hulton to equalise from a Jordan Morrissey off-load.
Richie Waters announced his arrival to the fray with a clinical first touch, splitting the posts from a Páraic Hughes pass, but three wides followed in quick succession and Wexford kept Carlow in the hunt as a result.
Another Darragh Foley free made it a one-point game again before the second Fethard man to be introduced, John Tubritt, went one better than clubmate Waters by picking off two quick points.
The first was delivered from his fist after a Glen Malone handpass, while the second arrived from a mark after a Niall Hughes delivery and left Wexford leading by 0-13 to 0-10 with 55 minutes played.
Colm Hulton pulled a point back, before Tubritt sent a golden goal chance wide after Waters and Mark Rossiter created the opening.
Glen Malone was sin-binned seconds later for a foul on Darragh O'Brien, and the anxiety among Wexford fans grew when Jordan Morrissey fed Ross Dunphy who reduced the gap to the minimum in the 61st minute (0-13 to 0-12).
Seán Nolan claimed a vital mark from Darragh Brooks' booming restart down the middle, with Waters involved in the move that followed before Mark Rossiter kicked a settling point.
The much-travelled Eric Molloy, who followed a very successful stint at Wexford FC with a professional career in New Zealand and Japan, was part of the Carlow forward line by this stage, but they also went down to 14 before Malone returned when Seánie Bambrick was black-carded in the 66th minute.
Mark Rossiter pointed from the free that followed, before Niall Hughes found Páraic Hughes in an advanced position on the right, and the latter left four points between the sides.
Eoghan Nolan made a vital interception to cut out a Carlow goal threat just before the return of Malone, and Darragh Foley knocked over the visitors' last point after Gavin Sheehan conceded a free rather than running the risk of allowing Niall Carew's side in for a major.
Carlow were down to 13 when Wexford struck for that game-clinching goal, after Ross Dunphy was shown the black card for a foul on Conor Carty almost four minutes into additional time.
And there's an interesting historical link in the scorer's family history, as Eoghan Nolan's grandfather, Tommy, was a native of Carlow who played with Wexford in the Leinster championship of 1951 against Westmeath (draw and replay) and Laois during his time with the now-defunct Young Irelands (Selskar) club.
Eoghan has been captaining the side in the absence of the injured Liam Coleman, and he made an incisive burst before playing a one-two with Mark Rossiter and slotting low past Johnny Furey to finally wrap things up in the 76th minute.
The return of Coleman to the midfield engine room is the chief requirement for that championship opener on Sunday week, and it was also encouraging to see Dylan Furlong making a late return from injury as he is an essential component of the back line.
When I left Portlaoise on February 5 after watching Laois beat Wexford by 1-18 to 1-13 in round two, I wasn't as hopeful about our chances of making amends in that Leinster tie as I am now.
Subsequent events have shown that while Wexford have improved, the O'Moore men have regressed. While both counties won't be happy about facing another year in Division 4, I think it will sting more from a Laois point of view because it's not so long ago that they were operating at a much higher level.
Right now, though, the formbook suggests that Wexford will be making the journey to the midlands with a decent chance of causing what would only be regarded as a mild upset in my view.
Wexford: Darragh Brooks (Castletown); Brian Cushe (Naomh Éanna), Gavin Sheehan (Gusserane), Michael Furlong (Adamstown); Glen Malone (Shelmaliers), Páraic Hughes (Kilanerin, 0-1), Kevin O'Grady (St. James'); Cathal Walsh (Monageer-Boolavogue, 0-1), Niall Hughes (Kilanerin); Dean O'Toole (Kilanerin), Eoghan Nolan (Shelmaliers, capt., 1-0), Mark Rossiter (Gusserane, 0-4, 1 free); Seán Nolan (Horeswood, 0-2), Robbie Brooks (Castletown), Ben Brosnan (Castletown, 0-5 frees). Subs. – Jim Rossiter (St. Fintan's) for Cushe, temp. (40-51), Richie Waters (Fethard, 0-1) for O'Toole (43), Conor Kinsella (Kilanerin) for Brosnan (53), John Tubritt (Fethard, 0-2, 1 mark) for R. Brooks (53), Dylan Furlong (Sarsfields) for O'Grady (64), Conor Carty (Castletown) for Walsh (70), also Anthony Larkin (Starlights), Jamie John Murphy (HWH-Bunclody), Dáire Bolger (Rathgarogue-Cushinstown), Cian Hughes (Kilanerin), Brian Molloy (St. James'). Sin-bin: Glen Malone (60).
Carlow: Johnny Furey; Liam Roberts, Mikey Bambrick (0-1), Jonah Dunne; Shane Buggy, Seánie Bambrick, Mark Furey; Conor Doyle, Jordan Morrissey; Josh Moore, Jamie Clarke (0-1), Shane Clarke; Colm Hulton (0-2), Darragh Foley (capt., 0-7 frees), Ross Dunphy (0-2). Subs. – Ciarán Moran for Doyle (50), Darragh O'Brien for M. Furey (50), Eric Molloy for S. Clarke (58), Finbarr Kavanagh for Roberts (64). Sin-bin: Seánie Bambrick (66), Ross Dunphy (70+4).
Referee: Seán Lonergan (Tipperary).
ALLIANZ FL Division 4
Sligo 7 6 0 1 120 93 12
Wicklow 7 4 2 1 113 101 10
Laois 7 5 0 2 135 101 10
Wexford 7 3 2 2 120 112 8
Leitrim 7 4 0 3 140 112 8
Carlow 7 2 1 4 94 118 5
Waterford 7 1 0 6 74 124 2
London 7 0 1 6 82 117 1