Loss as expected for injury-hit Wexford hurlers in dull tie against Limerick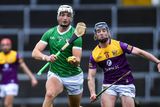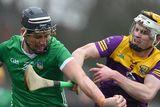 Alan Aherne
Wexford People
Limerick 2-20 Wexford 0-15
A JOURNEY to face the best team in the land would be a tall order at the best of times, but the lengthy injury list in the Wexford camp at present meant they had little hope of causing an upset in this dull and forgettable conclusion to Division 1 Group A of the Allianz League in the TUS Gaelic Grounds on Sunday.
The gloomy weather – persistent light rain, a thin wind and a permanently darkened sky – adequately mirrored the fare on view for the 8,341 spectators who were left thoroughly underwhelmed by the pedestrian nature of proceedings.
It was a typical end-of-competition game with nothing tangible at stake, as Limerick went through the motions ahead of their semi-final bout with Tipperary, while Wexford fulfilled a fixture that meant little or nothing to them given the circumstances.
It has been a thoroughly underwhelming campaign on the whole, and the expectations heading into the championship next month are certainly considerably lower than they were during Darragh Egan's first year at the helm – even allowing for last season's deflating league semi-final thrashing to Waterford.
Still, some issues were highlighted again on Sunday that demand our attention, and we'll start on a positive note as at least one did emerge amid all the doom and gloom.
That was the full 70-plus minutes of hurling that Rory O'Connor got under his belt, precisely what the doctor ordered with that big game away to Galway now looming large. He lined up for the throw-in at midfield alongside Cathal Dunbar, but then spent the game operating as a sweeper and got on a huge amount of ball, winning several frees with his driving runs and linking up well with Lee Chin in particular.
If the intention of the management was to place him in a position where he would be constantly involved, then that was a shrewd move as he needs all the activity that he can get at this stage.
It goes without saying, though, that come championship time O'Connor will have to be operating as close to the opposition posts as possible, because he is our most threatening forward from play by some distance.
His brother, Jack, filled the space between the half- and full-forward lines on this occasion, drifting out to leave Rory Higgins and Mikie Dwyer forming a two-man inside pair that was starved of possession and made no impression.
Lee Chin was Wexford's busiest player again but, along with grabbing eleven points – all bar one from frees – he was also responsible for a staggering eight of his team's 14 wides.
Those misses were spread evenly across both halves, and Limerick matched them exactly with seven plus seven themselves, but it once more highlighted the difficulties we face in making the most of our chances.
Chin hit four wides before the break (three from play plus a '65), and the four stray shots in the second-half included two frees.
It should be pointed out that conditions weren't helpful to free-takers, with Limerick trio Aaron Gillane, Diarmaid Byrnes and Tom Morrissey all missing chances they would normally convert.
Nonetheless, this is an ongoing issue for Wexford and it's one the management still need to address. There's no point talking about chances created when they're not put over the bar with more consistency in my opinion.
The fact that a paltry five points of the losing haul came from play sums up the lack of cut and thrust in attack, although the cause wasn't helped by the front five operating so far away from the Limerick goal.
Wing-back Ian Carty was actually Wexford's top scorer from play, getting the only first-half point that didn't arrive from a Chin free in the 14th minute.
He doubled his haul just 24 seconds into the new half from a Chin handpass, and it was a good day's work on the whole for the Taghmon-Camross player considering he was marking the formidable Gearóid Hegarty and kept him as quiet as could be reasonably expected.
Apart from Carty's brace, Conor Hearne (41 minutes), Chin (43 minutes) and Jack O'Connor (69 minutes) hit the rest of our points from play, while Limerick netminder Nickie Quaid was only called into action once on an easy day between the posts.
That arrived in the 27th minute when Cathal Dunbar – who made some decent darting runs from midfield – released clubmate Charlie McGuckin to cut in from the left, but the angle was tight and Quaid made a near-post save that was followed by a missed '65 from Chin.
The younger defenders especially will have learned a lot from this outing as, along with Carty marking Hegarty, Conor Foley policed Seamus Flanagan at full-back while Niall Murphy – making his first league start – was up against Micheál Houlihan.
With Shane Reck facing Aaron Gillane, Simon Donohoe on Conor Boylan, and Kevin Foley pitted against the impressive Cathal O'Neill, all six were kept on their toes throughout and weren't helped by the lack of pressure exerted by the Wexford forwards when Limerick worked the ball short through the lines.
Most sports enthusiasts – this writer included – would find it difficult to be bored by a hurling game, but I must say this one was an extremely difficult watch, full of stops and starts with 35 frees by my count (19 for the losers).
Limerick burst into an early 0-3 to nil lead courtesy of corner-back Richie English, free-taker Gillane, and wing-back Byrnes from play, before Chin punished a foul on Mikie Dwyer for Wexford's opener in the sixth minute.
Byrnes added two more, the first from play, on either side of Chin's next successful free, but there was an air of inevitability surrounding the outcome after Limerick netted for the first time on the ten-minute mark.
Cathal O'Neill created the opening with a powerful run from the left, and he released Kyle Hayes who seemed to get away with a few extra steps before bearing down on goal and giving Mark Fanning no chance (1-5 to 0-2).
The long-serving number one was blameless on that occasion, but he did gift Limerick pair Micheál Houlihan and O'Neill two first-half points from a puck-out and a free respectively as well as sending two more restarts over the sideline.
And, given that Fanning was also at fault for Limerick's second goal, James Lawlor now must come into serious consideration for the championship starting spot. The duo had four games apiece from the eight played thus far in 2023 to impress, and the Ferns St. Aidan's man is showing the better current form even allowing for the six goals he shipped against Clare, when the defensive support was non-existent.
Limerick had a chance to quickly add a second goal after that finish from Hayes, but thankfully Conor Boylan slipped after Richie English made a penetrating run.
The hosts were able to comfortably keep their rivals at arm's length without having to push themselves too hard, with Wexford trailing by 1-10 to 0-7 at the break after managing just that Ian Carty point from play.
Fanning's error for the second goal arrived in the 39th minute, extending the gap to 2-10 to 0-8.
A Cathal O'Neill delivery dropped short, but the netminder fumbled it and Aaron Gillane – although he knew little about it – appeared to get the final touch that directed the ball over the line.
Chin played a short free to Conor Hearne that led to Wexford's second point from play, and the captain then split the posts from close to the left sideline.
It was 2-14 to 0-11 as the game entered the last quarter, and I guess one saving grace is that we didn't appear to pick up any additional injuries.
Kyle Scallan, Corey Byrne-Dunbar, Conall Clancy and Darragh Carley were all given late runs off the bench, with the latter featuring on a league squad for the first time in 2023 along with his first cousin, Cian Byrne (Fethard), and Joe O'Connor.
Rory O'Connor remained heavily involved, and it was encouraging to see that he bounced up after every robust challenge that earned a free and is clearly improving with every passing week.
A warm weather training camp is to come before the championship starts, but the more pressing journeys as far as supporters are concerned will be the countless trips to be taken to the various physios and medics responsible for the well-being of the squad.
Unless they can work some magic over the coming weeks, no amount of fine-tuning in the sun will have Wexford fully ready for that ominous-looking visit to Galway on April 22.
Wexford: Mark Fanning (Glynn-Barntown); Simon Donohoe (Shelmaliers), Conor Foley (Horeswood), Shane Reck (Oylegate-Glenbrien); Niall Murphy (Ferns St. Aidan's), Kevin Foley (Rapparees), Ian Carty (Taghmon-Camross, 0-2); Cathal Dunbar (Naomh Éanna), Rory O'Connor (St. Martin's); Conor Hearne (Shelmaliers, 0-1), Lee Chin (Faythe Harriers, capt., 0-11, 10 frees), Charlie McGuckin (Naomh Éanna); Rory Higgins (Rathnure), Mikie Dwyer (Fethard), Jack O'Connor (St. Martin's, 0-1). Subs. – Kyle Scallan (Faythe Harriers) for K. Foley (56), Corey Byrne-Dunbar (Ferns St. Aidan's) for Hearne (61), Conall Clancy (Faythe Harriers) for Higgins (67), Darragh Carley (Glynn-Barntown) for Carty (67), also James Lawlor (Ferns St. Aidan's), Ross Banville (Shelmaliers), Cian Byrne (Fethard), David Clarke (Glynn-Barntown), Jack Doran (Naomh Éanna), Connal Flood (Cloughbawn), Joe O'Connor (St. Martin's).
Limerick: Nickie Quaid; Dan Morrissey, Mike Casey (0-1), Richie English (0-1); Diarmaid Byrnes (0-4, 2 frees), Declan Hannon (capt.), Kyle Hayes (1-0); Barry Murphy, Darragh O'Donovan; Gearóid Hegarty (0-1), Cathal O'Neill (0-1), Micheál Houlihan (0-1); Aaron Gillane (1-5, 0-5 frees), Seamus Flanagan (0-1), Cian Boylan. Subs. – Tom Morrissey (0-2, 1 free) for Houlihan (54), Donnacha Ó Dálaigh (0-2) for Gillane (54), Colin Coughlan for Byrnes (61), Oisín O'Reilly (0-1) for Boylan (61), Aidan O'Connor for Hegarty (68).
Referee: Michael Kennedy (Tipperary).
ALLIANZ HL Division 1 GROUP A
Cork 5 4 1 0 130 116 9
Limerick 5 4 0 1 132 99 8
Galway 5 3 0 2 139 112 6
Clare 5 2 1 2 152 116 5
Wexford 5 1 0 4 98 130 2
Westmeath 5 0 0 5 86 164 0