Blackwater just brilliant as special display secures first-ever top-flight success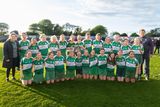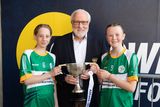 Alan Aherne
Wexford People
Blackwater 7-10 Rathnure 0-3
WHAT A way to bring a first-ever Allianz Rackard League Roinn 'A' camogie title home!
A brilliant Blackwater outfit produced a slick exhibition from start to finish to account for rivals from Rathnure who gamely never stopped trying in this one-sided contest in Chadwicks Wexford Park.
Blackwater were completing a gigantic leap in the process, and looking at this display it was hard to credit that were claiming 'C' honours as recently as last June when they overcame Marshalstown by 6-4 to 4-2.
The ascent to the highest grade was completed with aplomb, and if the club can avail of all this talent then there's a very bright camogie future in store in Páirc Naomh Bríd.
There wasn't a weak link to be seen among the Blackwater ranks, and the signs were already looking ominous for Rathnure when they conceded the first two goals inside a mere 55 seconds.
Wing-forward Kate Jones delivered the first, with Anna Roche lurking to ensure it crossed the line, while the second was a real peach into the roof of the net by Ellen O'Leary, who gave an exhibition of finishing from play and placed balls.
While her excellent accuracy caught the eye as she finished the final with a superb 3-7 to her credit, she received constant support from fellow midfielder Mia Wright who was a lively ball of energy.
There was no let-up from Blackwater, with O'Leary sandwiching her second goal in between two points from '30s before Kate Jones made it 4-2 to nil with her second major in the 14th minute.
Rathnure managed to open their account when Síona Martin slotted over a free, but Blackwater were determined to get this job done by half-time and duly added another 2-4 to their tally before the break.
Ellen O'Leary had a very impressive 3-5 to her name by that stage, while Eirinn Gahan and Sophie Ruttledge also got in on the scoring act with a goal and a point respectively.
With the score reading 6-6 to 0-1 at the interval, Rathnure should take some solace from their spirited efforts on the restart when they only 'lost' that half by 1-4 to 0-2.
Outsiders have always admired the black and ambers for their dogged refusal to give in, regardless of the grade or the quality of the opposition.
And this Rathnure team certainly didn't let either the school or the parish down in that regard, with overworked full-back Saoirse Doolan repelling numerous attacks while Síona Martin pulled back a couple of points from placed balls.
However, this was Blackwater's night without question, with Eirinn Gahan and Ellen O'Leary adding a brace of points apiece before the former put the icing on the cake with a late goal.
Blackwater: Mia Doyle; Kate Power, Amber Clarke, Saoirse Walsh; Áine Cashe, Hazel Sinnott (joint-capt.), Florence Stedman; Mia Wright, Ellen O'Leary (joint-capt., 3-7, 0-5 '30s); Kate Jones (2-0), Eirinn Gahan (2-2), Sophie Ruttledge (0-1); Ciara Broderick, Anna Roche, Ruby Cullen. Subs. (rolling) – Pixie McKenzie-Young, Olivia Moriarty, Hannah Kershaw, Ziva Burrows, Sinéad Cashe, Zoey Barrett, Bronagh Cullen, Stevie-Rae Clarke, Siena Dillane, Lily Mai Brennan, Ruby McDonald. Coaches: Sarah Moore, Peadar Moran.
Rathnure: Jessica Barron (capt.); Casey Codd, Saoirse Doolan, Kate Kavanagh; Jessica Reilly, Lilly Nolan, Caroline Murphy; Izzy Barron, Ella Codd; Síona Martin (0-3, 2 frees, 1 '30), Lilly Kehoe, Kate Higgins; Isobelle Mooney, Farrah McCarthy, Shannon Martin-Moore. Subs. (rolling) – Orlaith Morrissey, Faye O'Connell, Elsa O'Neill, Maeve O'Neill, Amelia Quigley, Amber Reilly, Mary-Rose Somers, Molly Barron, Emma Gaffney, Niamh Kavanagh, Evie Miller, Sarah Murphy, Lily O'Leary, Anna O'Neill. Coaches: Róisín Murphy, Eimear O'Connor, Micheál O'Neill.
Referee: Seán Whelan (St. Martin's).