Ben Brosnan rescues late draw for Wexford footballers against Wicklow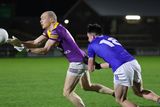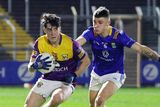 Alan Aherne
Wexford People
Wexford 0-19 Wicklow 2-13
WITH THE benefit of hindsight, both teams involved in Saturday's cracking Allianz Football League Division 4 derby in Chadwicks Wexford Park should be pleased with what must be regarded as the only fair outcome on the overall balance of play.
The share of the spoils that the hosts fully deserved was secured by veteran Ben Brosnan – still going strong 15 years after his debut – when he converted a free earned by late substitute Richie Waters in the eighth minute of additional time.
And while Wicklow looked like they might have edged to victory shortly before, when Eoin Darcy brought his tally to 2-6 from a free, they hadn't played well enough overall to secure both points.
However, they move into Sunday's last round with promotion still a very real possibility. They need to get their own work done first by beating lowly Waterford in Dungarvan, and then a Sligo win over Leitrim would guarantee Oisín McConville's side a place in Division 3 for 2024.
Ironically, it was Leitrim who did them a favour in the most recent round with their massive two-point win over Laois, but they won't want that outcome to be repeated this time around.
Wins for Wicklow, Leitrim and Laois (who play London) would leave the trio locked on ten points along with Sligo, but the Garden county's scoring difference is the weakest of the quartet at this stage.
If Sligo draw or beat Leitrim, that would be the dream scenario for Wicklow should they overcome Waterford in Fraher Field, because they have the head-to-head edge on Laois if the pair were to finish on ten points.
As for Wexford, it's a huge disappointment to be in the bottom four rather than in contention at the top, given their stated main aim from the outset of 2023 was to gain promotion.
With that dream already over, the goals have been re-calibrated to target a championship win away to Laois and a decent Tailteann Cup run. In that context, it was encouraging to score 19 points against promotion contenders, and now the hope is that this performance will be repeated when their campaign concludes at home to Carlow on Saturday (5.30 p.m.).
This clash of neighbours was a very open and lively contest from the off, with two men living a mere stone's throw from the Wicklow border – Robbie Brooks and teenager Cian Hughes – posing a lot of first-half problems in the full-forward line.
Both goals came at critical stages for the visitors who fell short of the standard they had reached in their crucial wins over Laois and Leitrim, but when their need was greatest it was midfield warrior Dean Healy who repeatedly drove them on.
He took the fight to Wexford when others around him were faltering, and his three points from play were priceless – particularly the second-half brace that inspired his colleagues.
Seán Nolan opened the scoring from a Cian Hughes pass after 32 seconds, but Darcy hit back with the first of his six successful frees before Robbie Brooks restored Wexford's lead from a mark, after a Glen Malone pass.
Hughes made it 0-3 to 0-1 from a Conor Kinsella delivery, but Kevin Quinn released Cillian McDonald to register Wicklow's first point from play in the seventh minute.
Quinn was forced out of the action with an injury midway through the second quarter, and his departure was a huge blow for Wicklow at a time when they trailed by 0-7 to 0-4.
A sharp Robbie Brooks turn and finish from a Mark Rossiter pass had doubled Wexford's lead to 0-4 to 0-2 before Mark Kenny hit back, and the equaliser followed from a sweet strike by Healy after an Eoin Darcy pass in the twelfth minute.
Darcy had the game's first wide from a scoreable free, with Niall Hughes and Mark Rossiter off target at the other end before a good Wexford run yielded three points on the trot.
An excellent tackle by Eoin Murtagh denied Conor Kinsella an opening for goal, with Seán Nolan picking up the pieces in the moments that followed to kick his second point (0-5 to 0-4).
The first free for Wexford didn't arrive until the 21st minute, with Wicklow earning nine beforehand, but the leaders' full-forward line continued to pose a constant threat.
A Mark Rossiter pass led to Robbie Brooks bursting in along the endline and firing over from a tight angle, before the former punished a foul on Cian Hughes in the 25th minute.
And the next Wexford attack saw Wicklow living dangerously, as a long punt from left half-back Kevin O'Grady broke favourably for Brooks. He let fly with a powerful shot, but Mark Jackson made a very impressive save.
Given that Kevin Quinn departed moments later, the concession of a goal at that stage might have been one blow too many for Wicklow. It was the second piece of brave defending to thwart Brooks, because Karl Furlong had blocked an earlier goal-bound shot in the fifth minute.
The visitors rallied approaching half-time, with the full-forward's lively replacement, Cian O'Sullivan, knocking over a left-footed free with his first touch for their first score in more than 16 minutes.
Darcy then made it a one-point game after a foul on O'Sullivan, but Wexford centre-back Brian Molloy hit back after good work by Niall Hughes and Seán Nolan.
Darcy pointed again after Pádraig O'Toole was impeded, but the kick-out was caught by Niall Hughes and he released Kevin O'Grady to utilise his searing pace and drive forward from the left flank for the best score of the game.
With Wexford holding a 0-9 to 0-7 interval lead, they introduced Gavin Sheehan on his return from injury and that released full-back Páraic Hughes to resume at right half-forward, in place of clubmate Conor Kinsella.
And there was a bright resumption from the leaders, as the younger of the two Hughes brothers, Cian, sold a nice dummy before splitting the posts and Glen Malone then fisted over from the left side to make it 0-11 to 0-7.
Eoin Darcy converted a free to keep Wicklow in touch, but Páraic Hughes replied after a pass from Cathal Walsh – the first Monageer-Boolavogue clubman to play from start to finish in a Senior game for Wexford since Billy Rowsome against Westmeath in a subsidiary league semi-final loss in Portarlington in April 1983.
Dean Healy played a one-two with Mark Kenny and pulled back a point before a couple of missed frees by Mark Rossiter (from Wexford's overall wides tally of ten) preceded the equalising goal.
It arrived when Darcy was fouled in the 49th minute after a penetrating move featuring Healy, Andy Maher and Tom Moran, and he picked himself up to send Darragh Brooks the wrong way from the penalty spot (1-9 to 0-12).
With the game on a knife-edge, Wexford reacted well to this blow in a spell when Wicklow manager Oisín McConville was yellow-carded and Mark Kenny kicked one of their seven wides.
Three points in five minutes – from the recently-introduced Ben Brosnan (free), Eoghan Nolan (mark), and Seán Nolan – left the locals with a 0-15 to 1-9 advantage.
Wicklow's desire to get a result shone through in a strong reaction, with a foul on Healy as he kicked for the posts leading to another successful Darcy free.
Mark Kenny then hooked a high shot over the bar from a Cian O'Sullivan off-load, and Healy levelled with a memorable individual effort in the 63rd minute (1-12 to 0-15).
That was followed by the introduction of Conor Carty – who had led the team out beforehand – for his landmark one-hundredth appearance in a county Senior jersey.
Niall Hughes restored Wexford's lead from a short pass by Darragh Brooks, after Wicklow expected the netminder to kick long when he ventured downfield to take a 55-metre free.
A poor Wicklow kick-out was swiftly punished, as Seán Nolan and Brian Molloy linked up before Ben Brosnan made it 0-17 to 1-12 in the 66th minute.
However, the game took another dramatic twist just 30 seconds later, with a Jack Kirwan delivery knocked down by Mark Kenny into the path of Eoin Darcy who shot low to the net.
Kenny had a chance to add a point after an Andy Maher run but shot wide, and a Mark Rossiter mark – from a Kevin O'Grady pass – secured the leveller for Wexford in the 70th minute (0-18 to 2-12).
Conor Carty and Cian O'Sullivan swapped wides as the tension mounted, while Mark Jackson made a vital catch and was fouled before Rossiter could pounce on a teasing kick by Seán Nolan.
The six additional minutes were extended by a further 100 seconds, with Brian Cushe making a big interception for Wexford before Eoghan Nolan registered their last wide.
J.P. Hurley caught the kick-out and, after a long spell of patient keep-ball, a Dean Healy run led to a foul on midfield partner Pádraig O'Toole and the lead point for free-taker Eoin Darcy, five-and-a-half minutes into added time.
Wexford introduced Richie Waters in a last throw of the dice, and he did precisely what he was there for – winning a free 40 metres out from a Kevin O'Grady pass.
There's no better man in the county than Ben Brosnan to step up in such a pressure situation, and his equalising free was followed by the full-time whistle on Mark Jackson's kick-out.
Wexford: Darragh Brooks (Castletown); Brian Cushe (Naomh Éanna), Páraic Hughes (Kilanerin, 0-1), Michael Furlong (Adamstown); Glen Malone (Shelmaliers, 0-1), Brian Molloy (St. James', 0-1), Kevin O'Grady (St. James', 0-1); Cathal Walsh (Monageer-Boolavogue), Niall Hughes (Kilanerin, 0-1); Conor Kinsella (Kilanerin), Eoghan Nolan (Shelmaliers, capt., 0-1 mark), Mark Rossiter (Gusserane, 0-2, 1 free, 1 mark); Cian Hughes (Kilanerin, 0-2), Seán Nolan (Horeswood, 0-2), Robbie Brooks (Castletown, 0-3, 1 mark). Subs. – Gavin Sheehan (Gusserane) for Kinsella (HT), Ben Brosnan (Castletown, 0-4, 2 frees) for C. Hughes (50), Conor Carty (Castletown) for R. Brooks, inj. (63), Richie Waters (Fethard) for S. Nolan (70+7), also Anthony Larkin (Starlights), Liam Doyle (Ballyhogue), Jim Rossiter (St. Fintan's), Jamie John Murphy (HWH-Bunclody), Dean O'Toole (Kilanerin), Dáire Bolger (Rathgarogue-Cushinstown), John Tubritt (Fethard).
Wicklow: Mark Jackson; Malachy Stone, Eoin Murtagh, Karl Furlong; Tom Moran, Patrick O'Keane, Zach Cullen; Dean Healy (0-3), Pádraig O'Toole; Cillian McDonald (0-1), J.P. Hurley, Jack Kirwan; Mark Kenny (0-2), Kevin Quinn, Eoin Darcy (2-6, 0-6 frees, 1-0 pen.). Subs. – Cian O'Sullivan (0-1 free) for Quinn, inj. (27), Andy Maher for Furlong (44), Jacques McCall for Moran, inj. (55), Seán Murphy for McDonald (68), Arran Murphy for Kirwan (70+6).
Referee: Brendan Cawley (Kildare).
ALLIANZ FL Division 4
Sligo 6 5 0 1 102 76 10
Leitrim 6 4 0 2 123 94 8
Laois 6 4 0 2 111 87 8
Wicklow 6 3 2 1 99 93 8
Wexford 6 2 2 2 101 99 6
Carlow 6 2 1 3 81 99 5
Waterford 6 1 0 5 66 110 2
London 6 0 1 5 68 93 1