Work has started on €20m hotel and golf course overlooking Curracloe beach in Wexford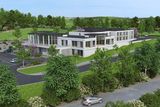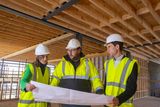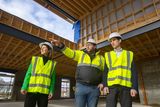 Maria Pepper
Wexford People
The Wexford-based Neville Hotel Group have commenced work on a new €20 million resort hotel and golf course overlooking award-winning Curracloe beach.
The development on a 185-acre site at Kilmacoe on the outskirts of Curracloe village will include a 50 bedroom hotel, bar, restaurant, spa, leisure centre and an 18-hole championship golf course.
The new hotel costing €12 million is expected to open in late 2023, with the second phase of the project, incorporating 22 holiday lodges and the golf course, due for construction in 2024, at an additional investment of €8 million..
The development will be the fifth hotel in the Irish family-owned Neville Group alongside the Royal Marine Hotel in Dun Laoghaire, Druids Glen Hotel and Golf Resort in County Wicklow, the River Court Hotel in Kilkenny and the Tower Hotel in Waterford.
The hotel has been designed by HM Architects in Waterford  who previously worked with the Neville Group on the renovation and redesign of the Tower Hotel in Waterford, and most recently, the renovation and extension of the Bridge House at the Kilkenny River Court Hotel. The golf course will be designed by Jason Straka of Fry Straka from Ohio, USA.
Speaking at the launch, Therese Kelly, company director at Neville Hotel said: "We are really excited for this hotel development which will have spectacular views overlooking the well-known Curracloe beach.
"This hotel will be the fifth in our portfolio, adding a third gold course to the group in addition to Druids Glen and Druids Heath. Wexford is a beautiful county and we see a lot of potential here. It is great to be expanding in our home county and expanding the offering in the south east region."
Eoin Neville, director of William Neville and Sons said the company is "thrilled" to be breaking ground in Curracloe on its newest development.
"Planning permission was first sought for the project 25 years ago and a 10-year permission was granted by An Bord Pleanála in 2015. We have already invested €12 million in phase one of the development and by the time phase two is complete, we will have invested over €20 million in the property.
"The development has been welcomed and well received by local people as it will boost tourism in the region and will also create employment opportunities locally.", he said.
A number of planning applications for the Curracloe development were turned down over the years and permission was eventually granted eight years ago but the company ran into another obstacle when Irish Water refused to allow the project to connect into the Wexford main drainage scheme.
Nevilles then sought and were granted approval by Wexford County Council in mid-2021 to amend a condition of planning, enabling the building of an on-site waste treatment plant which will discharge into constructed wetland ponds, with the reclaimed water to be used to irrigate the golf course roughs. This application paved the way for the project to proceed.