Wexford and Wicklow Gardaí put through their paces in 'hostile situations' during public order training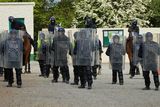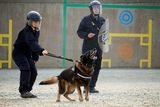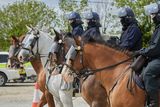 Pádraig Byrne
Wexford People
How would you react if a hostile mob started throwing petrol bombs in your direction? This was among many questions posed as a group of some 45 specially selected gardaí from the Wexford and Wicklow division took part in intense specialised public order training at a location in North Wexford recently.
The group of 45 had put themselves forward for gruelling training and had to pass through a rigorous selection process before even making it to the six days of training.
Having made it that far, their actions were under the microscope and they were assessed in all manner of volatile situations, from full on riots with petrol bombs, to storming into buildings where hostile occupants were throwing projectiles.
Kitted out in specialised garda riot equipment, the participants also had to train alongside the Garda national dog unit and the national mounted support unit in a variety of scenarios.
"It is a physically tough and demanding six days," said Sgt Brendan Costello, who was overseeing the training. "Those taking part already had to pass a fairly demanding fitness test and then once they were on the course, they were subject to continuous assessment. It is a very physically demanding course."
Those who emerged from it successful will now form part of the Garda National Public Unit which they could be called up to at any time. The unit tends to be waiting in the wings during any high-profile visits, such as the recent visit President Joe Biden, and they'd also be likely to be called up in the event of violence spilling onto the streets as a result of protests and counter-protests, a powder-keg which could go up at any time in the current environment.
Garda management were extremely happy with the work put in by those from the Wexford and Wicklow division and they'll be ready to be called upon as needed going forward.