Young Co Wexford pupil wins national coding award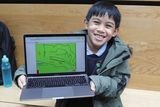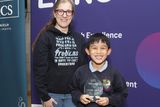 David Looby
New Ross Standard
New Ross pupil Marcus Bugna (8) has won a national coding award in the 13th annual National Scratch Coding Competition.
Organised by Lero, the Science Foundation Ireland Research Centre for Software and the Irish Computer Society, the national finals brought together top-scoring teams from schools and clubs across the country with participants, aged six years and older, demonstrating their Scratch projects to judges at University of Limerick on Wednesday.
Marcus Bugna from Catherine McCauley Junior School, Castlemoyle, New Ross, was presented with a Judges' Award for his project 5 Level Maze.
"Lero's support and involvement in the Scratch competition underpins one of our core objectives which is to train software practitioners of the future through interventions at all levels of the education system. It is so important to nurture and develop coding skills and computational thinking among children and young people," said Dr Clare McInerney, Education and Public Engagement Manager with Lero.
"What we see in the National Scratch Competition Finals is the culmination of many months of work for the participants, their teachers and their families and the end result is very impressive. Their projects are a convergence of science and creativity and allows them to see what coding makes possible
"There were 280 entries in this year's competition, a big increase on last year and an excellent gender balance (56pc male, 44pc female). 45 students made it to the finals and the panel of 15 judges was very impressed by the quality and originality of the projects on show. Congratulations to all the finalists for their work."
Scratch is a visual programming language that helps children to build key coding skills in a fun and interactive way. The Scratch Coding Competition promotes computing and software development at both primary and secondary school levels and has grown since 2010 alongside the growth in interest in coding.