Works at Emigrant Park in New Ross are well under way
Park is expected to open in September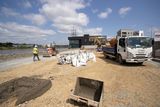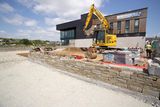 David Looby
New Ross Standard
WORKS are progressing at pace on the Emigrant Park in New Ross which is due to be opened in September.
The old wall has been lowered by MJS Civil Engineering staff and an attractive new wall is being built all along the waterfront.
New Ross district director Eamonn Hore said works are ongoing on the old oil tanks site beside the Dunbrody visitor centre and will be completed to a high standard.
The wall running along the river Barrow has been lowered by about three feet and ramps will be created to afford a wonderful view of the river. On top of the wall there will be a railing similar to the one on the boardwalk.
Because of the close association with New Ross quay front and emigration the decision was made to give the park an emigrant theme.
To this end steps that were on the old Graves office will be incorporated into the park's design, while a sign for the famous New Ross company will be visible from the park.
Information boards will give the history of New Ross port where timber was imported from Canada and other countries.
There will be a small play area for children made of logs.
The play feature will be set in rubber safety matting and reflective strips will be incorporated into the timber supports at the appropriate height for the partially sighted. Information about the historic ships will be included in the interpretive panel located at the edge of the play area.
A wall will divide the edge of the park form the Dunbrody centre, with three graphal panels located in the park, creating a stunning effect at night when the pinholes are illuminated. Aspects of the maritime heritage of New Ross will be integrated into the design of the space using historic and new design features.
The proposed corten steel panels to be fixed to the screen wall at the northern end of the space will be perforated to compose graphic motifs of historic sailing ship rigging.
They will be mounted to the wall with a steel frame with LED lighting integrated into the rear of the panels to create a backlit effect, with the lighting emanating from the perforated shapes.
Seating and lighting will be erected, along with flags.
Planting on the site will commence with the completion of each stage of the works and as a result the programme is closely tied to construction operations.